DENVER — The Denver Broncos are partnering with Nationwide to host their inaugural Taste of the Broncos, the ultimate gourmet tailgate experience that will take place at Sports Authority Field at Mile High on Tuesday, June 16, from 5:30-9 p.m.
Taste of the Broncos, held at the Noble Energy Sports Legends Mall on the south end of the stadium and at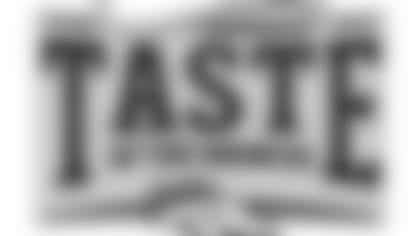 field level, will allow patrons to enjoy food and drink from approximately 30 Colorado restaurants. Proceeds from the event will benefit Food Bank of the Rockies, a Broncos community partner.
Tickets for the event will go on sale Friday at 10 a.m. MDT. To purchase tickets and for more information on the event, please visit this link to the Taste of the Broncos web site or you can visit the Ticketmaster page here. General admission is $200, and there are also VIP tickets for $300 that include higer end fare and an on-field performance by the Colorado Symphony Orchestra. All individual tickets include onsite parking.
The event is for all ages, and there will be an accompanying musical act for all guests, with an on-field finale including dessert and a performance by the Colorado Symphony Orchestra.
Chef Troy Guard will be lead chef for the event. The owner of six Denver-area restaurants, including TAG, TAG Burger Bar, Sunnyside Burger Bar, BUBU, Sugarmill, Los Chingones and the newest Guard & Grace (opening March 2015), Guard is the long-time Denver Broncos chef representative at the annual Taste of the NFL event. Since 1992, the Taste of the NFL has rallied the county's top chefs and the NFL's greatest players to raise money in support of food banks throughout the United States.
Opportunities to meet Broncos players, alumni, cheerleaders, Miles the Mascot as well as photo opportunities with the Lombardi Trophies will be available during the event. Several head chefs representing their respective Colorado restaurants will be available to discuss food and drink offerings with patrons. Entertaining guests throughout the evening will be various musical acts including the Colorado Symphony Orchestra.
Food Bank of the Rockies (FBR) is the largest private hunger-relief organization in the state of Colorado, founded in 1978. Today, FBR has extended its reach providing food and supplies to more than 800 hunger-relief programs. Since 1978, FBR has provided nearly 571 million meals for people in need. Last year, FBR distributed 53.2 million pounds of food, enough to provide more that 121,000 meals each day to children, seniors and families in need.
Food Bank of the Rockies is a member of Feeding America, a national nonprofit partner of Nationwide that is the country's leading hunger-relief charity and has more than 200 member food banks throughout the country. Their partnership aims to feed communities in the United States via philanthropy, volunteerism and workplace giving. Hunger relief is important with one in six Americans facing food insecurities this year.