ENGLEWOOD, Colo. —The Broncos' 2019 rookie class has already made a significant impact on the field.
On Tuesday, they made their impact felt off the field by hosting Christmas with the Rookies, a first-time event that gave 10 teenage boys in foster families a special night opening presents and eating dinner with Broncos players at UCHealth Training Center.
As the boys arrived at Pat Bowlen Fieldhouse, they were taken to the locker room, where each guest found a locker with their name on it. From top to bottom, presents — including a personalized jersey — filled the locker. And standing there, eager to meet them, were Broncos players.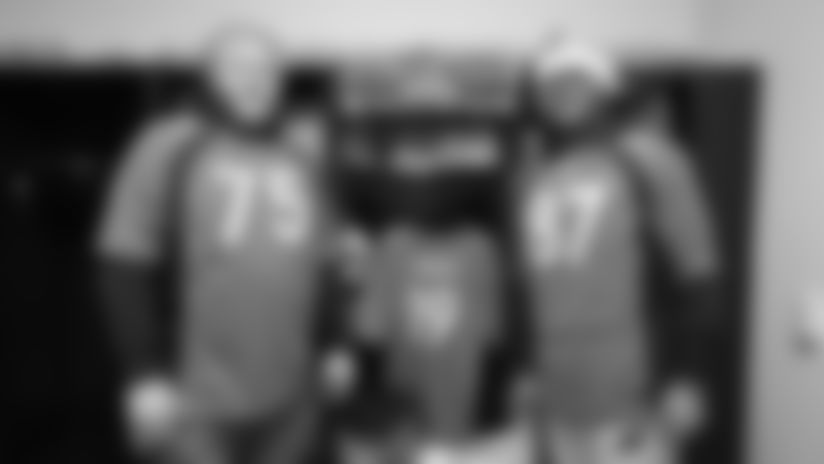 The event's origin dates back to the Broncos' Round with the Rookies fundraiser in May. The event, sponsored by Coca-Cola, raised $25,000.
After the event, the Denver Broncos Charities organization opted to let the rookies decide how the money would be used.
"Since the event was rookie-driven and all the rookies attended, it was important to us as an organization that they had a say in how those funds were being used in their brand-new community," Broncos Executive Director of Community Development Allie Engelken said. "So, they met as a rookie class, they discussed ways they wanted to support this community and they actually voted and decided on how they were going to use those funds."
The group, led by Noah Fant, Dalton Risner and Drew Lock, discussed their options, and voted to support Kids Crossing, an organization based in Colorado Springs that aims to help provide homes and temporary care for children in foster care. The foundation's Denver office serves about 30 children per month, the majority of whom are teenagers.
"We wanted to make the biggest impact we could, and knowing there's underprivileged kids out there that don't get very good Christmases," Fant said. "… We thought it was a great avenue for us to take to kind of make a couple kids' Christmases the best possible."
The majority of the funds went toward paying for the gifts. Some of the players even shopped for the gifts themselves. In addition, $5,000 was held donated to the organization for programmatic expenses, and the rest will help provide supplies for kids making their transitions out of foster care.
"We were excited when the rookies selected Kids Crossing as the partner organization for this event," Engelken said. "Hosting teenagers this evening is so important because teenage boys in the foster care system are often the kids and the ages that get overlooked for holiday events. For the players to identify a segment of the foster care system doesn't receive a lot support, this shows that they were thoughtful about who they wanted to impact and what they wanted to utilize their funding for."
Being a part of the process brought the rookies closer and made them all the more invested in the outcome of their chosen cause.
"It's quite a journey," cornerback Alijah Holder said. "It feels like it really wasn't that long ago, A Round with the Rookies at TopGolf. But it's crazy how much money we raised at that event that's gone toward here. … That just says what kind of influence we have on the community and what we can do with that money and really that power we have. It's really awesome to be a part of this. … I think it's going to be extra special for all of us."
That kind of anxious anticipation was palpable before the kids arrived, and not just because they were excited to see them peel back the gift wrapping on an Xbox or a pair of Jordans.
"Honestly, I'm just excited to meet them and the parents that they bring," Fant said. "It's going to be great to see them open their presents, but I'm enjoying that relationship that's going to get built and having fun and just enjoying their company and trying to really just make an impact on their lives and their mentality and how they're going about their lives."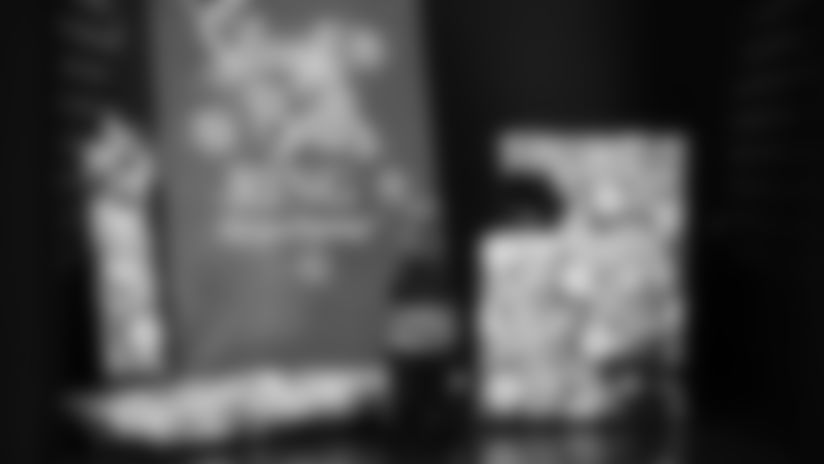 It did not take long for the players to bond with the kids.
They erupted with loud "oohs" and "aahs" for the biggest gifts, like stylish sneakers or game consoles, though it was the small gifts that drew the players' attention the most. A ring of rookies opened up a deck of Uno cards and played a game with one of the boys. 
The most popular gift in the locker room at one point was a basketball. Most of the players had a chance to show off their handles with the rock — or lack thereof, as they dribbled it off their thighs or fumbled it off their ankles.
The boy who had them all legitimately beat with quick hands and shifty feet, though, found himself in the open space in the middle of the locker room facing Fant, who prepared to guard him one-on-one. Moments later, Fant was juked out of his sandals, much to the delight of his teammates and the rest of the boys, and even to Fant himself.
"The second that these kids walked in, they put on a personalized jersey that matched the ones the rookies were wearing," Engelken said. "The players opened up their world as professional athletes to these kids to show them that they are really no different from each other.
"And for at least one night, we hope these kids feel like they're a part of the Broncos family and part of this rookie class."
That sentiment certainly continued after they finished opening gifts, too, as the kids and the players had dinner together and got to know one another. By the time they all went their separate ways, there was no doubt each group had made a significant impact on the other.
"It was really special for the rookies to see and feel the appreciation from the kids," Engelken said. "There were a few holding back tears and that were just so appreciative of being thought of at the holidays."