When the San Francisco 49ers come to town on Wednesday, the Broncos will welcome them with open arms to the UCHealth Training Center, but Von Miller will welcome one Niner as a member of his family.
Defensive tackle Tony Jerod-Eddie and Miller's tight bond stretches back to high school, having been strengthened considerably when Miller invited Jerod-Eddie to live with their family. With his mother moving out of town, Jerod-Eddie faced from DeSoto High School, but he wanted to stay, and Miller wanted him to stay, too.
"The common denominator on everything was football," Miller said. "We all had that in common and everybody just didn't have a stable home to go home to and then come back [and] play football and go to school, and that's what my mom and my dad tried to do: give them a stable home right down the street where they could go and play football, come home and have a bed to rest in and not have to share a bed or nothing. Mi casa es su casa."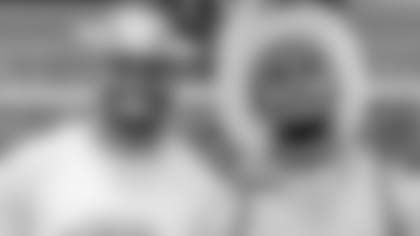 It was nothing Miller or his family dwelled upon. He didn't need to do any convincing, Miller said.
"We had just moved into a house, a big ol' house, and it was just me and my little brother and my mom and my dad and we just used to always have people over there," Miller added. "Instead of bringing home pets, I brought home people and they could stay for a long time. My mom and my dad, they did a really good job with all these guys because they didn't treat them different."
Jerod-Eddie's grateful to Miller and his family for giving him a home and stability at such a formative period in his life.
"It takes a village to raise a child, and they took me in and treated me like their own," Jerod-Eddie says. "Still to this day I call his mom, 'mom,' and I call his dad, 'dad.' They love me like I'm their own son."
Indeed, Jerod-Eddie was just like another member of the family. He made his bed, he did his chores — "It was like a sleepover every day," Miller says.
And as teenage boys are wont to do, sometimes those sleepovers spilled out of the house and into the night on weekends.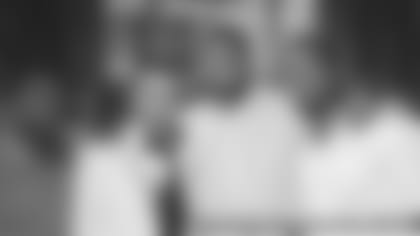 Miller recounted one story where that was the case, on a night when he, Jerod-Eddie and Miller's younger brother snuck out of the house. They were careful, or so they thought. The boys would return to Miller's father waiting in darkness of the living room.
"So we came home at like three in the morning," Miller recalled with a laugh, "and my dad was sitting there on the couch in the dark like 'Where've y'all been?' But we didn't get into trouble, just got a little bit of a talking-to."
The two friends talked often of their NFL dreams, and today that's exactly where they find themselves. It's a quite different spot than growing up in high school, but what has stayed the same is how they've remained roommates through the years in the offseason, to this day.
During this most recent offseason, Miller and Jerod-Eddie worked out in Miami, Los Angeles and then Miami, again, living together in each city.
And that brotherly bond is just as strong as it ever was, even to the point that Jerod-Eddie will borrow Miller's shirts, despite weighing some 50 pounds more and being two inches taller.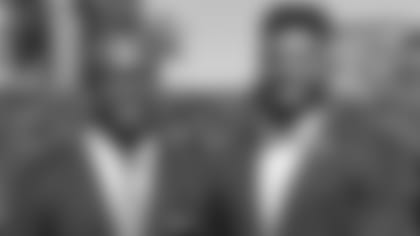 "Yeah, he's a little bit bigger but he wears his stuff a little snugger," Miller joked. "When I look at my closet and I see a shirt missing and I look at him and he's got it on and I don't get mad, y'all are brothers. You're best friends."
The joint practices between the Broncos and 49ers before their game on Saturday offer the first practice together for the two longtime friends since their days as Aggies.
"It'll be good to see him and to see my family; they'll be out there to see us play in the game," Jerod-Eddie said. "That's always good. It'll be interesting to see how he practices, I haven't seen that since we were at A&M."
The present has not strayed far from the past, and the two friends hope to extend it well into the future, beyond football.
"[Miller] says all the time, 'I can't wait to have kids, so that when they get on my nerves I can send them to Uncle Tony,'" Jerod-Eddie says. "He knows I love kids, so we joke about that all the time. We're just playing the waiting game to see who is going to have them first because we talk about how we want them to grow up together. We want them to be the same around the same age so we can live through them and say like, 'Hey, that was us back in the day.'"
---