FORT COLLINS, Colo. —** For as much as the Broncos want to excel on the field, they want to mirror that success off it, President and CEO Joe Ellis told Colorado State University students on Thursday.
Speaking at CSU's 37th annual Business Day event, Ellis detailed how the team has worked to create synergy in both team and environmental sustainability. From switching to playbooks on iPads (saving on paper each season) to stadium-wide recycling and waste-reduction initiatives that since 2007 diverted more than 1,200 tons of waste from landfills, produced over 130 tons of compost and
recycled more than 250 tons of cardboard, to saving more than 8.5 million gallons of water over the last five years, the Broncos have worked to improve their environmental impact.
After his speech, students were able to ask questions to inform their perspective about perhaps working in sports, and about what's involved creating a valuable organization in sports, and not just on game day.
"We just started the partnership with CSU this past year and I think it's got great promise. We're in our infancy stages and to participate in this day, this Business Day here, I think we'll hopefully add some value," Ellis said. "I think I can speak on behalf of the Broncos and let everybody know how excited we are to have this sponsorship doing some events with them, not just today but in the past and the future and our connections will enable students to grow and heighten their outlooks in terms of what their career opportunities will be in the world of sports, not just in football but all throughout the world of sports."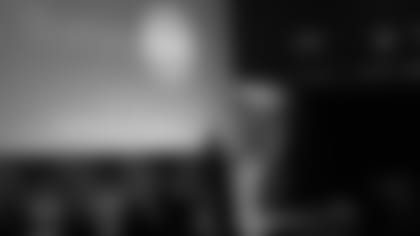 While the Business Day is an event produced by CSU's College of Business, it's open to all students to get valuable experience, as Ajay Menon, the dean of the business school, noted.
"We are, today, celebrating 37 years of what we call 'Business Day' where we allow our students the opportunity to work with and listen to business executives from a variety of industries and backgrounds," Menon said. "...You'll find today largely Colorado kids and they are studying marketing, accounting, finance, supply chain, HR — all different facets of business. But we open this program to the rest of the campus where we have students from all sorts of fields coming to us today, so you'll find undergraduate students, 18 to 21, 22-years-old; graduate students, veterans and a whole host of community folks also visiting us today."
With a leader from such a influential and iconic Colorado institution to speak before students finding their paths, Menon said Ellis' presence offers students helpful insight into a sector many are interested in breaking into.
"Our students have always thought about the Denver Broncos as being the brand that they have chosen for part of their football interest, and as a result, what you find is we bring in an iconic leader like Joe Ellis who has the reputation for integrity, the reputation for steely leadership; we're steering one of their favorite franchises to the top of the NFL heap," Menon said. "These are students looking to see what leadership is like in a sector of the industry or a sector of their workforce that they never get a chance to see. So having Joe Ellis is one of the big highlights of this day's program for our students here.
"It's about paying forward, it's about developing young talent further. All of these aspects that impart to what life might be in corporate America. And so there is a huge synergy between the Denver Broncos operations and what these students might face in other parts of the business sectors that we have."