DENVER — The Mile High City's best and brightest young women were on hand Saturday to learn about science and technology — and the Denver Broncos were there to help foster excitement for the field.
Annie and Morgan represented the Denver Broncos Cheerleaders at the "Girls & Science" event at the Denver Museum of Nature & Science, and both seemed thrilled with their decision to take part.
"I thought the event was fascinating," Annie said. "I have been to events like this before, so I knew what to expect.
"I thought it was empowering to be around other women and girls who wanted to learn. It was cool to see parents encouraging their daughters [and their] friends."
The two DBC members joined more than 8,100 people who filtered through the museum to participate in nearly two-dozen science-related exhibitions.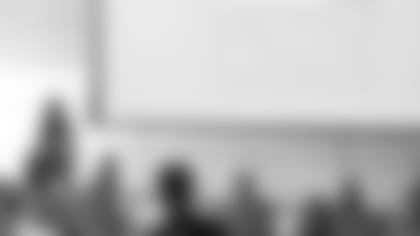 The fourth-annual event, which billed itself as a "traditional spin on the traditional career fair," gave girls the chance to interact with women whose careers are in STEAM (science, technology, engineering, arts and technology).
For nine hours Saturday, the girls were able to participate in a variety of activities that allowed them to study subjects that included astronomy, meteorology and paleontology.
And Annie and Morgan, who both work in STEAM-related fields, were there throughout the process to encourage and spark the learning process.
"I love working with young girls," Morgan said. "I think mostly because I can remember being in their shoes, and can relate to some of the challenges they're going through. Some girls still struggle with their friends not thinking it's 'cool' to be good at science and math or someone telling them it's OK to give up on STEAM just because they're not good at it.
"I didn't really have a female role model until I got to college and I can see why so many girls get turned away from STEAM when they're young. I want to do everything I can to be that role model for any girl that needs it. And my favorite part about working with girls is that once you show them their potential, they won't let anything hold them back."
After interacting with many of the thousands of young women who made their way through the exam Saturday, Morgan and Annie have high hopes for the future of women in STEAM-related careers.
"The number of women in STEAM fields academically and professionally is still not high enough for me," Morgan said. "Everyone can recognize the importance of diversity of thought when it comes to solving some of the world's most complex problems, and I think it's critical that women are a part of the conversation. Women in STEAM have the ability to change the world but it all starts when we're girls. My hope is that showing a young girl that her intellect is powerful and that she has the potential to engineer a solution to some of the problems she sees in the world will help her take a step towards a career in STEAM."
Annie and Morgan both partipicated in the program Saturday in support of the Broncos' Tackle STEM initiative.