HIGHLANDS RANCH, Colo. —** With a crowd of a few dozen people on a sunny Sunday morning surrounding him as he readied his bike adorned, naturally, with the number 30, David Bruton Jr.'s mind was set at ease.
The great turnout was a comfort for him at the first event of his foundation Bruton's Books. The Family Fun Ride encouraged people to donate gently used books and all proceeds from entry fees to the ride went toward supporting Colorado Reading Corps and School Partners, which are programs of Mile High United Way's School Readiness Initiative.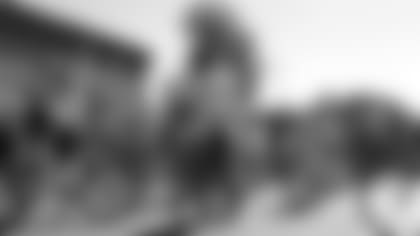 "Hopefully it's a huge impact," Bruton began. "I'm excited about it. We have books being donated, money that's being donated that will help the Reading Corps and Mile High United Way, as well as Bruton's Books. We have a Trek Broncos bike here as well. It's a great turnout for a first event. It's amazing. I was a little nervous but I'm very excited at how this event's turned out this far."
He also had the support of his teammates, with Kenny Anunike, Omar Bolden, Joe Don Duncan, Ben Garland, Virgil Green and Ryan Harris at the event. That too helped Bruton, to know that he had their support, and it also helped bring smiles to kids' faces.
"The Broncos as an organization has done so much for the community and then us as players individually, we help out with the team and also have our own deals going on as well," Bruton said. "I feel like we're trying to make the biggest impact that we possibly can throughout the NFL within Denver."
There was an inflated obstacle course, a crafts table and more for the children, but the main event was an 8.24-mile bike ride beginning at Elevation Cycles, following Centennial Trail until reaching Fly'N Bee park, at which point the riders began back along the same route to finish where they started.
Bolden didn't expect to do the entire ride, but he found the ride easier than he expected and he got caught up in the active spirit with his teammates.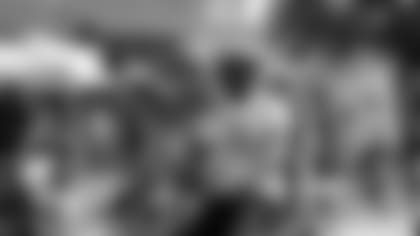 "I actually thought it was going to be a lot harder than what it was," he said. "We had fun. I didn't want to turn around. The guys were out riding, making it a little competitive so it made me want to stay out there."
However, he did have a little help from the bike he was loaned, which had a motor in it to help with hills and tough parts of the ride. He shrugged off jokes that the bike was cheating. After all, "This is not part of my training so this isn't cheating for me," he said with a laugh. "I was just having a good time."
Though the ride was for Bruton's Books and to support efforts for literacy and reading competency, it had more ties to Bruton's interests because of his love for outdoor activity. While helping his foundation's goal in regards to reading, it also addressed one of his goals as a Play 60 ambassador, which is to get children to engage in outdoor athletic activity.
"It encoursages kids to be active and want to read," Bolden said. "When I was a kid, the books they forced in our face, I didn't want to read. I wish I would have had somebody like in David's position to come into my school and encourage me to want to read—even if it wasn't something I liked—because of what he's doing and coming and putting his time and effort in, it would make me want to put the effort into cracking that book open. I think it's good and obviously we can't stress our kids enough to be active. I think it's so important especially with technology. It's so easy for a kid to just sit inside a house and not be active. I think it works great."
Safety David Bruton Jr. hosted a family fun ride to raise money for his Bruton's Books foundation to help childhood literacy.