ENGLEWOOD, Colo. —** Given all the contruction over the past year, the Broncos' practice facility will look markedly different from the past, and it will also have a different name. Now the campus that includes the offices, gym, fields and indoor practice facility is known as the UCHealth Training Center.
But that's just one part of the partnership between the Broncos and UCHealth. They are also a founding partner of the Broncos Health & Wellness Expo and will provide health screenings, with a goal of increasing education about taking care of one's self and awareness.
"This is an opportunity for us to really improve the care of patients, fans, and residence of this whole Rocky Mountain Region," said Elizabeth Concordia, UCHealth President and CEO. 'If you think about how does one do that—with education, awareness, and early detection—we really can make a difference in the lives of the people that we love and touch each and everyday.'
One of the initial projects for UCHealth in the partnership will be a stroke awareness campaign, and efforts to increase early screenings for cancer.
"We'll also be focusing very much on early detection, by having mammographies offered at the stadium on many of the game days," Concordia said. "Specifically, we're very excited about this UCHealth/Broncos Wellness Expo, where we can really focus on sending a message of an active lifestyle and healthy lifestyle, because after all, Colorado is in fact one of the healthiest states, but also know we can do better. So when we look at how do we improve lives—if we can be early in detecting lung cancer, breast cancer, colon cancer, and really making great strides in reducing the obesity rate in this state, we can jointly make a difference, and that's what we're really here for each and everyday at UC Health."
Broncos President and CEO Joe Ellis said that after searching for about a decade, they found UCHealth to be a fitting partner.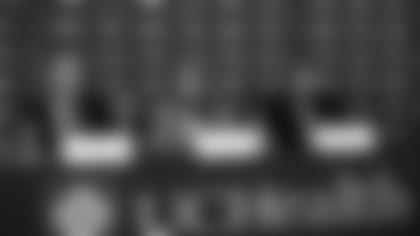 "We're thrilled and lucky to have one the nations leading healthcare systems as our partner," Ellis said. "Our partnership will encourage and improve the heath and wellness of Denver Broncos fans throughout the Rocky Mountain region."
A big part of that is catching health dangers early on with screenings. Sometimes it can be difficult to convince people to get those, but presenting the option, the awareness and the knowledge of early screenings can save lives, as Dr. Richard Schulick, chairman of surgery at the University of Colorado Hospital attested.
Colorectal cancer is the No. 2 cancer killer, he said, yet only 30 percent of Americans get their colonoscopy screenings beginning at 50 years old as recommended.
"You can imagine what impact and how many lives could be saved by increasing that from 30% to 50% to 70% and in an ideal world 100%, right?" Shulick said. "But just making some movement there will save an incredible amount of lives. And that's just colorectal cancer, what about breast cancer? What about prostate cancer? What about lung cancer?"
So while the most visible part of the partnership will probably be the signs in front of the office building and indoor facility, by the practice field or on the tower, the lasting impact will hopefully be a legacy of encouraging health education and well-being.