DENVER –The first person in line to get guard Max Garcia's autograph at Broncos en Espanol on Friday had a huge grin on her face.
"I'm a Garcia, just like you," she said.
She then quickly asked him if he spoke Spanish. He told her, 'Sí,' and a conversation began.
The woman was just one of 8,000 people in attendance at Sports Authority Field at Mile High for the Broncos' event to celebrate Hispanic Heritage Month. The free, three-hour event offered photo opportunities with the Lombardi Trophies, visits to the field, a number of interactive games and more.
But the main attraction was undoubtedly the opportunity to get autographs from the Broncos in attendance. In addition to Garcia, center Matt Paradis, wide receiver Jordan Norwood, nose tackle Sylvester Williams, punter Riley Dixon, linebacker Corey Nelson and wide receiver Bennie Fowler were also there to show their appreciation for the Hispanic community.
"It's crazy the reach the team has," Dixon said. "It really makes me appreciate what we do and how many fans we have that support us.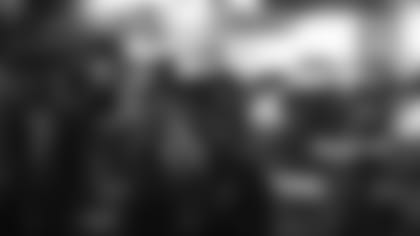 "They've got the music going and a bunch of awesome fans out here, so it's good to get a couple autographs for them and a couple pictures with them and just make the community happy."
The celebration and appreciation of Hispanic culture in the concourse of the stadium was a welcome feeling for many, including Nelson.
"I'm very familiar with the Hispanic community," Nelson said. "I went to a high school that was predominantly Hispanic, and [they] are still my friends to this day. It feels like I'm almost right at home."
For Garcia, who is a fluent Spanish speaker, the event offered the chance to "represent the Latinos in the league and the Latinos everywhere else."
The pride for his culture shined through as he met with fan after fan. In between signing autographs for the hundreds of people waiting in line to meet him and Paradis, Garcia took a moment to share a message to those in attendance.
"We are a very hard-working people," Garcia said. "It might not be easy all the time. My family, we've had our ups and downs, but in the end you can always succeed. Take whatever opportunity you have and make the most of it. Maximize everything else and just keep moving forward and wait till another door opens."