LONE TREE, Colo. – When Dekoda Watson next sees the real Demaryius Thomas, he knows he'll have to thank him.
After all, the Madden version of Thomas helped Watson prevail at Monday's 'Pros vs GI Joes' event.
"Thank you so much," Watson said with a laugh. "Between him and Virge [Virgil Green], they saved me. Without a doubt. Absolutely."
But while Watson's late touchdown throw to Thomas gave him the 6-0 victory in his Madden matchup, his opponent was far more important. Watson was one of more than half a dozen players who spent the evening with current and former servicemen and servicewomen, as well as their children.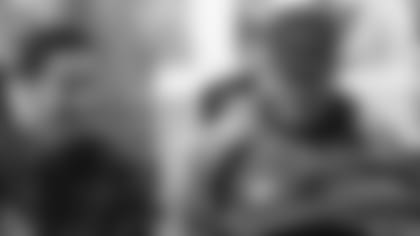 As the Broncos approach their official Salute to Service game on Sunday against the Chiefs, the evening served as a reminder of the sacrifice made by those in the armed forces.
"It means everything," Watson said. "To be able to come out here and work with the military and their sons or their daughters and playing a game and just giving back a little back, I love stuff like this. It's a no-brainer for me to come out. It's been two weeks since we went to the base, now we're here in the Microsoft store, so I'm having a lot of fun.
Watson said he's surpassed his goal of one community service outing per week and sits closer to an average of two. On Tuesday, he'll attend another event. On Monday night, however, his focus was entirely on the troops, who sit close to his heart. One of Watson's closest friends is currently serving overseas, and Watson said he sent a game system over to him so that they could stay connected.
He could certainly use some practice at Madden, he admitted.
"I don't know how y'all play this game," Watson said. "All my NFL games are still in wrappers because I don't play the game personally. Thank god that I'm a gamer."
Watson's fellow outside linebacker Shane Ray felt a little more confident. If his opponent decided to take the Broncos, Ray said he'd choose a team at random and the result wouldn't change.
"Whatever team I play with," Ray said, "I'm winning."
But Ray, too, recognized the importance of Monday's event.
"I think it's important that we all just become in some type of way to be patriotic toward our vets and encourage them and thank them for what they do," Ray said.
Chris Stovall, the community development specialist at the Park Meadows Microsoft store, praised the Broncos' willingness to be a partner and said he was glad Microsoft could help "at least do this" in return for the service the troops provide.
"It's awesome," Stovall said. "We're getting some of the Broncos players in here playing against some of our veterans. Everyone's having fun. It's a great day."
In that sense, it didn't really matter if Watson found a way to connect with Thomas for a game-winning score.
But he'll thank him anyway.