GREENWOOD VILLAGE, Colo. — Summer officially arrives on Sunday and with the sun unmercifully beating down in high temperatures already, now's an important time to learn about hydration to stay healthy and avoid illness or injury.
Pro Bowl running back C.J. Anderson and Team Nutritionist Bryan Snyder took that message on the road to high school students on Friday at Cherry Creek High School at the 11th annual Gatorade Beat the Heat program during the Football University Denver Camp.
"The Gatorade Sports Science Institute found that 70 percent of high school football players from around the country show up for practice dehydrated," Synder told the students. "This is not only unsafe, but it also affects how you perform on the field.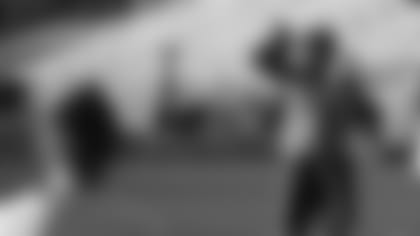 "So it's important that you pay attention to how you hydrate before, during and after hitting the field. Your body loses a lot of nutrients with every drop of sweat and it's critical that your replace what you sweat out," he said.
It's something Anderson learned about in high school, though not in the easiest way.
"In high school, I cramped up a lot and part of that was I didn't get a lot of fluids in me, no matter what it was. You start to understand that but as you get older, you get the right people around you like Bryan," he said.
"...Coaches that understand, they're trying to keep you hydrated and tell you what to do so you can be successful and play at a high level where you don't have to come out a couple plays. Because if you come out those couple plays because you're cramping, those could be the couple plays that could have been game-changing."
A combination of high temperatures, direct sunlight, humidity and dehydration can make a dangerous mix. That can lead to painful heat cramps, heat exhaustion (which can include symptoms like headaches, nausea and fatigue) or even heat stroke, which can be life-threatening.
The body loses water content and necessary salts during exposure to heat or during exercise, so it's important to drink water consistently throughout the day and also while being in the sun.
Though the sun can bring out the worst in dehydration, it's also important to take these lessons and apply them year-round.
"Even when it's not hot, you should hydrate," Anderson said. "I've heard that plenty of times. I remember when we were in Cincinnati last year and it was raining, and they were just telling us to keep hydrating because you never know. You always want to hydrate no matter what the weather is."