For any practice squad member, motivation is almost instilled naturally. You're so close to your dream you can actually touch it, but there are still obstacles in your way.
While that's a good source of motivation, for me last year on the practice squad, it was only one percent. The other 99 percent of my motivation comes from my family: My wife, Jordanna, my two sons, Shaquil Jr., 3, and Braylon, 2, and my daughter Aaliyah, 7 months.
Nothing is more motivating than being able to provide for my family and my wife and kids. That's what I want to be able to do and having been striving to do since I was in college. I want to give them everything they want so they don't have to worry about anything.
But being on the practice squad was a blessing in disguise because I took it as a learning year. I learned a lot from guys like Lerentee McCray, DeMarcus Ware and Von Miller. I would attribute a lot of my changes from last year to this year on learning from those guys.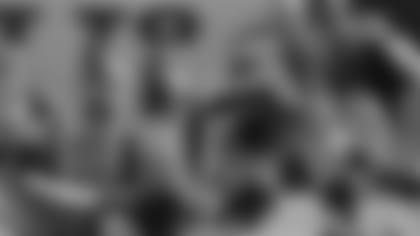 I also saw a big change in my body after a year. Coming out of college, I had a tremendous amount of body fat. I just saw a picture recently and was shocked that I looked like that. My agent sent my wife a meal plan for a healthy diet and I'm still working on it and still keep working on that to become a better athlete, a better player. Bigger, faster, stronger.
During training camp this season I prayed that I would stay healthy. In last season's camp I injured my ankle and wasn't able to play to my full potential.
I was just as confident as I was the year before, but this time I stayed healthy, had a great preseason and then just kept it up. From the few snaps in the games and in practice, I showed the coaches I can play and my role just kept increasing on the team.
When it came time for the team to trim to the 53-man roster, I was at home with my wife, who was checking about every five minutes to see if I made it. I started looking too, but then I just had to start cleaning. I was doing the dishes and my wife said, You made the team! *I looked at her and said, *Are you for real?
And then it hit me 20 minutes later and then I was excited. But I knew it was just the beginning. I had to prove to them I could still perform in the regular season.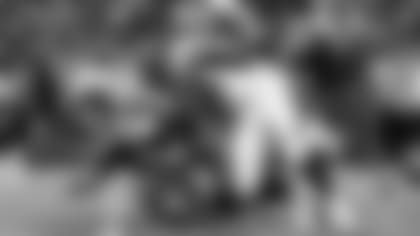 While I'm still working on certain things like my explosiveness and my hands on pass rush, this season has been exciting. I think I've been pretty sound and have made an impact on special teams, and defensively I've been able to come in and somewhat fill in for Von when he's tired.
I learned a lot on the practice squad, but the learning hasn't stopped now that I'm on the team.
Learning from the Pro Bowlers on our team I see the kind of things they do out there and I try to apply it to my game because they're successful for a reason. I want to be as successful as I can be all day.
On defense, everybody is a playmaker and when I see someone who makes a big play – I want to get one on the next play. It's a high energy that we all feed off of and we all want to be the guy who makes that play to help the team win.