When I heard I was the Broncos' Salute to Service Award nominee I was stunned! Among so many who serve and give back to our military, I was chosen! Wow! It is a huge honor being nominated through my former team, the Denver Broncos, which is one of NFL's great franchises. As great as the nominee honor is, the greater honor has been the incredible privilege meeting our active military men and women, and our veterans over the last 20-plus years.
An appreciation and love for our military has always been part of my core. My dad and uncles were WWII veterans. My dad fought in the Philippines defending our country. Though my dad and uncles didn't share specifics about fighting in WWII, I deeply respected their service. My dad was my HERO, in many ways.
When I went off to Ohio State, I learned my football coach, Woody Hayes, was also a WWII veteran. He and my dad talked at length about what an honor it was to serve their country.
Back then, college football was an extracurricular. At OSU, I joined ROTC; it was part of my every-day routine. You went to class and you did drills. My thought was, "If I do a couple years of ROTC and I get drafted I could go in as a 2nd Lieutenant."
When I learned my number wasn't called, I returned to civilian life. However, ROTC was an excellent experience. I got a small glimpse of the hard work and discipline required to be a part of our military. The commitment, the discipline, and the values one needs when you're fighting for your country, defending your country, defending the flag, defending the Star Spangled Banner, defending what we have in America … our freedom — that means everything.
Then there are my three USO tours in 2004, 2005, and 2007. From a civilian viewpoint, the USO tours gave me a profound appreciation for what our military men and women encounter each and every day. I came away with a deeper respect for each and every one of them. My prayers are with them, always.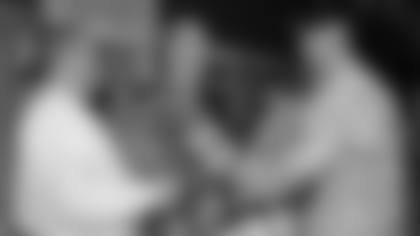 Participating in Welcome Home ceremonies at Fort Carson deeply touched my heart and my life. They brought me to tears every time. Our tired men and women were making it home alive to rejoin their families. Seeing our family at the end of the day is something, perhaps, that many of us take for granted.
Over the past several years, I've had the great opportunity to be part of the team at Mt. Carmel Veterans Service Center in Colorado Springs. It's a humbling honor being with our veterans on a personal level, helping/ supporting/encouraging them when they visit looking for transitional services and assistance through our wellness and behavior programs. Many need a listening ear, a pat on the back. I'm there for them, but they give me more than I could ever give them.
Over the years, I've been blessed earning many football awards for leadership and performance. But, honestly, being a Salute to Service Award nominee tops any recognition I've ever received. I truly mean that. I've been able to give back, to live out my commitment and love for our military via the NFL, the Broncos and Phil Long dealerships. They've given me many, many great opportunities to live my dream, giving back to our men and women in uniform. My sincere gratitude!