I remember I was at home with my family in California. It was early in the morning — I had just gotten up, and we were just getting the barbecue marinated. The third round had just finished, and the fourth round was starting. My agency was telling me I was going to be like a sixth-, seventh-round pick or a free agent, so I had time.
At least that's what I thought.
All of the sudden, my phone rings, and it's the defensive coordinator for the Bengals, Chuck Bresnahan. Then the owner of the Bengals, Mike Brown, was like, "Hey, you ready to be a Cincinnati Bengal?" I remember I got my whole family together, and we got in a circle and just said a prayer and said thanks to God. And then after that we got after it and partied it up.
I remember my rookie year I had a good game against the Broncos. It was Jay Cutler's first year, and I had two sacks against him. That was a good memory. I just remember my first year, I was behind two really good defensive tackles — John Thornton and Sam Adams. Those two guys taught me the game really well.
But the most important rookie lesson came from Justin Smith. He was a great defensive end. They called him "The Cowboy." I remember him telling me, "Hey man, you've just got to give it 100 percent. Every game, every play, every practice, give 100 percent. Give your best, man, and the camera and the film will see that and the coaches will see that." And I've just been living by that, man, just always giving my best at practice and in games and everything.
There's a quote, "Give your best and God will do the rest." So that's what I decided to do — just give my best and my hardest effort, and good things will happen.
I remember playing really good defense out there, being a top-five defense for a couple of years in a row. But there's one play that really sticks out in my head.
There was one "Monday Night Football" game in Cincinnati against Pittsburgh where they put me at fullback, and I got to run over one of the best safeties to ever play the game, Troy Polamalu, a good friend of mine.
I remember in practice I was preparing to go against a linebacker like Larry Foote or James Harrison — some really good 'backers. During the game, I was going hard. I thought it was going to be Harrison or Foote and then it ended up being the 'uso' Polamalu, man. I put my head down and ran him over, and I remember Cedric Benson scoring the touchdown, and it was a big touchdown for us.
I just remember seeing him after the game and saying, "My bad, 'uso.'" But he's a professional. He was like, "Hey man, you were just doing your job."
It just seemed like after that play the whole city had a lot of respect for me.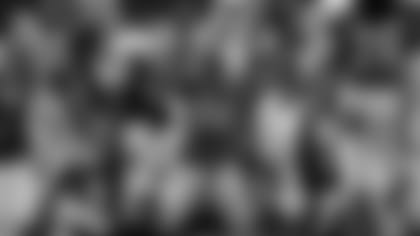 The move out to Denver was tough. Being in Cincinnati for 11 years, you build a lot of relationships, and that was the toughest part for me. When you come into work, you know people not only by their last names, but by their first names. You know their kids. My kid was 1 year old when I got there, and he was 12 when I left. He grew up with the team. He grew up with Coach Lewis. So losing those relationships, that's what was really tough for us. And taking my kids out of school and having them move here and lose all their friends there, that was the toughest part.
Plus, there was football. I was a 4-3 guy coming here. Coming to a 3-4, I was like, 'Oh, that's a little different.' But I came in with an open mind, I was willing to change, willing to switch it up to be a 3-4 guy. I had to stay humble and always accept coaching.
Being coached by Bill Kollar was a big part of the success. I think — and a lot of our players will agree with me, and a lot of people around the league will say — he's one of the best defensive line coaches in the game. For him to just come and help me and mold me and show me different techniques on how to play nose guard in the 3-4 really helped me out.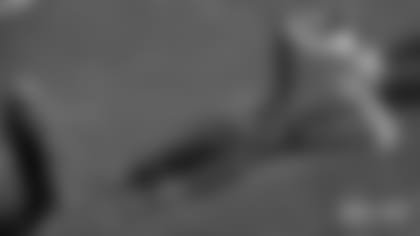 Thank God I was able to come right in and fit right in. They welcomed me with open arms.
I thought I was going to retire in Cincinnati and stay there. I was one of the dudes in the middle there, in the middle of the defense that was stout and strong.
Not only that, but off the field, there are so many times of me helping the players off the field. That was one of the things I was able to do, and I was a captain there for eight years, just being a leader on that team and a leader in that locker room and in the community, man. So it meant the world to have Coach Lewis say this week that I was one of the pillars of the team.
Going back to Cincinnati, it's going to be cool, it's going to be crazy, it's going to be a whole mix of emotions.
I know I'm going to say hi to the staff, a lot of the older coaches that I had out there, but I definitely want to say hi to my older teammates that have been there — Geno Atkins, Vontaze Burfict, Dre Kirkpatrick, Carlos Dunlap. But one of my best friends is Clark Harris, their long snapper. I'm definitely going to say hi to him. We always hung out together. His kids played with my kids. They're all my 'usos' still, so I'll say hi to them after the game, because during the game, it's going to be all business.
It's going to be good to see all the fans that cheered me on for 11 years, too. It's going to be a mix of emotions, but I'm an emotional player. That's how I play this game. I'm going to be fired up, ready to go and keep doing what I've been doing.
I'm going to be happy to be back, but I'm also going to be angry to be back. I want to go out there and prove to them that they let me go too early and show the city what they're missing out on.