Bradley Chubb spent part of his off day on Tuesday visiting with Columbine High School's football team. The Rebels are taking part in this week's Denver Broncos High School Game of the Week, so Chubb gave a speech to the team about his time in high school and his path to the NFL.
Congratulations on being the High School Game of the Week and being 5-0 to start. That's huge. I remember my senior year of high school, we went 11-1 and ended up losing in the second round of the playoffs, but it's all good — that won't happen to y'all.
How many seniors are in the group right now? Senior year, I remember it like it was yesterday. It flies by. Enjoy the people around you, because these people — no matter if you're going off to college or to do different things — I feel like my high school teammates, my high school group of friends, were the people I was closest with. I played football with those guys from when I was 6 years old until when I was 17 years old.
For me, it was kind of hard in high school. I didn't know what my identity was yet. My freshman year, I was about 5-foot-8, 160 pounds. I wasn't big at all. My brother was the star linebacker on the team. I didn't know what to do. I was like, "All right, my brother's the star linebacker. I'm just this small kid. Nobody is really talking about me." My sophomore year, I got a little bit bigger. I didn't really know my way on the football field yet. I was trying out at running back, fullback, outside linebacker — just different things. And then my junior year was when I hit my growth spurt. Going into my junior year of high school, I hit my growth spurt and got to 6-foot-2, 6-foot-3, put on some weight. I was like, "OK, this is the year." I went out there and played three games, solid. I was being talked about and everybody was loving me. And then my fourth game, I went and tore my ACL.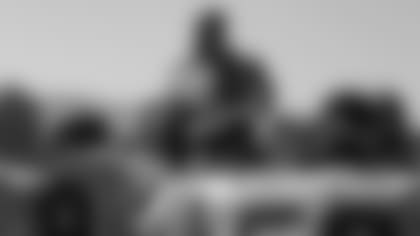 At that time, my brother was at Wake Forest University. He was like the star linebacker there. And my dad had played at Georgia, you know, before we were even thought of. So, my whole life, it was like, "Your brother's a star in college. Your dad was a star in college. Now what are you going to do?" When I got hurt and tore my ACL, I thought everything was over with. I thought, "Man, I'm not going to play on the college level. I'm not going to make it to the NFL. I'm not going to live my dreams. I'm not going to do everything I want to do." But I had my mom around me, my whole family around me, just pushing me, making sure I did everything in my recovery the right way, making sure that everything went smooth.
So I came back my senior year — and I feel this is why my senior year was so special — I came back, got like 10 scholarship offers before I even played a game. I just did different things and then ended up going off to college to North Carolina State. I feel like I had a pretty good senior year of high school, and then I went to NC State.
I thought I was this big shot, that nobody could talk to me, that nobody could do anything. And then I got humbled real quick. I was fifth on the depth chart, wasn't getting any playing time. I almost got redshirted, but somebody got hurt so I had to play special teams. That was another humbling moment. I was like, "My brother's doing this. My dad did that, and he made it to the NFL. And I'm fifth on the depth chart right now."
But I put my head down and worked. My sophomore year I came out, and it was my first year starting. On my team, I was the newcomer of the year that season. My junior year I had the opportunity to leave for the NFL or stay for my senior year, and I decided to come back to school for my senior year. And here I am now.
It's been a long journey, a tough journey. It hasn't been easy. I know people see an NFL player and they think, "Oh, he has it made." It was not easy at all. I had to fight through different things, injuries, stuff in my own thoughts.
If y'all are in a place now where you feel like you're down, just get somebody that's close to you. Talk to them. Talk to whoever you need to and pick yourself up and get to work. I feel like hard work is the main thing that will get you to the end of a situation.