Leading into the Vikings game, Head Coach Gary Kubiak sat me down and told me that I was going to start.
My first NFL start would be my first snap in the league. Protecting Peyton Manning, no less. No pressure, right?
My parents definitely reminded me about that before the game. You know you're going to be blocking for a Hall of Famer?
The offensive line went through some changes after Ty Sambrailo hurt his shoulder. Ryan Harris, who usually plays at right tackle, moved to the left and I stepped into his place.
Because of that, people doubted us, especially with all the changes. That doubt just added to the pressure.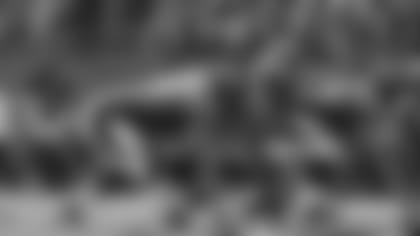 But the only way to silence the doubters is to go out there and perform.
It helps to be close with my teammates and they were supportive of me the whole way. During the preparations leading up to the game, Ryan came up to me and helped reassure me, telling me, Play confident. You're a good player. That's why you're here.
When it came time for the game, no lie, I had some jitters. Just don't mess up! That was the big thing. You don't want to give up a sack, don't want to mess up. I just had to play with confidence to go out there and prove that I'm a good player.
The first play – I was definitely nervous. I don't like being on defense first because then you've got to wait to get those jitters out of the way on the sideline.
You've got to have a short memory in this league when it comes to making mistakes and constantly look to learn from them. There were a couple plays where I did some things off balance, but then later in the drive I made up for it with a different play and better technique.
Then midway through the first series the nerves started to go away -- because the second play I was a little iffy -- but then after that I kind of got into a groove.
Because once you get the first play out of the way, you realize it's just football. You know you're blocking for Peyton, but it's not the big concern. No matter who the quarterback is you don't want him to get hurt.
The most important thing was that we got a win and it helped give me confidence going forward this season. Any time you can get on the field and perform well it's going to help you in your career.
The Broncos went to 4-0 with a win over the Vikings. Here are the top shots from the win.