Before every game, I envision myself making the blocks; envision the plays that are going to be called.
We have what's called the first 15 plays, so I study those and just visualize it, the kind of defense that they're going to play. I visualize what's the worst thing that can happen on this play. How can I stop this from happening, or how can I react to that? How can I counter that move that defensive lineman's going to make, or the blitz that the defense is going to run? I kind of just envision those types of scenarios for every one of those 15 plays.
Heading into the Patriots game I knew for the first time this season, I was going to start. I knew I was going to play the whole game.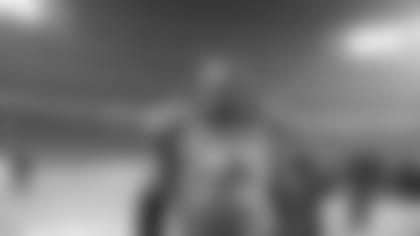 I was a little bit nervous. But I've been playing a lot this season, so I wasn't too rattled. There's always a nervous excitement. It doesn't matter whether I'm starting or not. I'm always nervous, excited for the game.
Our line has gone through some hardships and injuries this season, but it has made the older guys know they can count on me. After the game Ryan Harris said to me, "I was kind of nervous. I didn't know how you were going to be out there, but I'm totally comfortable playing next to you now." That was very encouraging to hear from him.
Then in the first quarter, Louis Vasquez went down.
When I went over to right guard after Lou went down, I thought, My team needs me. If there's ever a time that my team has ever needed me, it's right now.
There's no room to be a rookie. There's no time to make mistakes. The time is now. In the locker room we always say, "This is it." That's what I was saying in my head. This is it.
I just went out there and played free. Free from being worried about making mistakes. Free from expectations.
I feel like playing free and just going out there and having fun is the best way to play. That's really what was going through my head. Like, this is the time, and I just need to go out there and ball.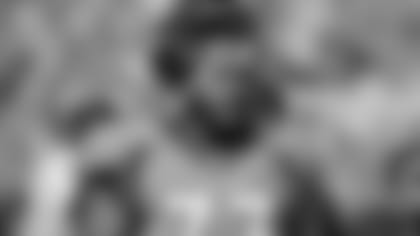 Heading into the half we were down by a touchdown. Sometimes during a game, you kind of have that feeling like, Aw man, we might not win this game. But that wasn't the case on Sunday. When we went back to the locker room, I felt like everyone believed that we were going to win the game. We were down, but losing was the last thing in our head.
In the second half, things started to click and we were able to fight back to get the lead, but then they scored and we were headed to overtime.
The defense had a big stop, we got the ball and I knew we had to do something there.
It was third-and-1 and Brock Osweiler got the ball to running back C.J. Anderson. I was trying to just gain on the backside, trying to shield my guy off and I was just running as fast as I could.
I was trying not to fall on the snow out there and C.J. bends the corner, I see Ryan and Matt -- they got two huge cut blocks that spring C.J. and then the last guy, he just shakes off the defender and then I'm just running behind him as fast as I can.
Everything just felt like it was happening in slow motion. The game moves fast, but everything is going in slow motion. Just running into the end zone with him was crazy.
That was probably the most excited I had ever seen the locker room this year. A lot of guys with huge smiles on their faces. I was so excited just yelling with the fans. It was a good time.
Most importantly, I think the game was a huge confidence booster for me, knowing that I can play at this level, I can succeed at this level.
I still have a lot strides to make and a lot of things to overcome in my game play. I've got a lot of work to do. That game was a huge confidence booster, but I can't settle on my success in the past, I've got to keep moving forward. That being said, I'm excited for this Sunday against the Chargers.
Doesn't matter how much I play, I'll play like it's my last time out.