Last Sunday against Indianapolis, I think the whole defense got away from who we are. That's the biggest thing that we messed up on.
We helped them down the field with penalties. The whole day we were just out of sync and not playing like the No. 1 defense in the league.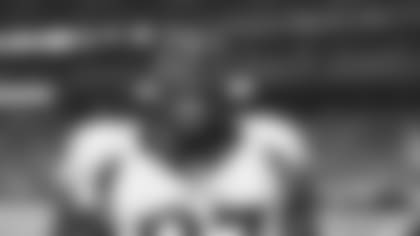 But even though we didn't get the team win, I still saw improvement in myself. We work on getting our hands up every day and it's so ingrained in my mind to where, if I don't get to the quarterback, I just put my hands up. I've been doing it all year, but they just started falling for me the past few games. Against the Colts, I had three passes batted down – the most for a Bronco defensive lineman since 1996.
It's a blessing to be in the company that I'm in. I have to attribute it to the coaches, especially Defensive Line Coach, Bill Kollar and Defensive Coordinator Wade Phillips.
It's rewarding working with Coach Kollar. At first, he's really hard on you. But in this league, I think that's what makes him a great coach. He really demands the best, week in and week out.
He knows that our bodies are banged up, he played the game himself; he knows how long the season is. I think that him being so tough on us, teaching us his vast wisdom and being methodical in what we do – it lets us know that once we cross those lines going out on the field for practice, it's going to be work. I think that's where I've improved the most.
And I've improved a lot. I think coming into this year I was a pretty average player, but with Coach Wade coming here with his defense and Coach Kollar coming in here with his expertise in pass rushing, it really put me over the edge.
My goal is to get 10 sacks this year. If I can get that, then I think that would be a really great year for me in the pass game.
I think I've been doing well this season, but the loss against Indianapolis was hard. It stinks to disappoint our coaches, especially Coach Wade and Head Coach Gary Kubiak. They give us so much and we want to see them happy. We like to see them smile.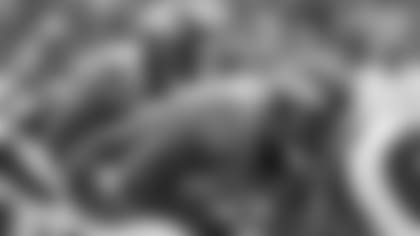 It's one of those things that when things are going good, they are going good, but when things are going bad, it's the players and then you hear things like the coaches need to be more on the players. To see Coach Wade upset and come in here and see that we only hit one goal, it stinks.
But we've got eight more chances. It is what it is, you forget about it and move on.
This is an any-given-Sunday league. I think we're going to go out here and really show the world that last week was just a hiccup.
This game also has added significance for me, because it's our Salute to Service game.
I was fortunate enough to be approached by Rod Smith about being a part of a Helping Hands for Freedom, which helps wounded, deployed and family members of the deceased, which I thought that was a great cause.
My dad was in the military and I know a lot of people in the military. They sacrifice so much for us and that people every day take for granted. It's like out of sight, out of mind.
In Colorado, there are a lot of military all around the state. Being able to help these families that love the Broncos enjoy their life and help them with the simple things in life is amazing. I was blessed enough that Helping Hands for Freedom was brought to my attention. I think it's a great cause.
I couldn't me more honored to share the field with them this Sunday. It should be a great day for many reasons.