I'm a firm believer that you gain confidence through preparation. So in every pregame I've got to catch at least 100 balls.
Nothing would actually happen if I didn't — it's all in my head — but it's all about keeping my focus, which is what I did in the days of preparation for the Chiefs game.
My assignment has been very detailed, making preparation and attention to my technique important in order to know my opponent and their weaknesses.
There aren't any 'gimmies' in the NFL, making each game difficult in its own way. Against Kansas City, we were definitely in a battle.
Our last opponent, Baltimore, plays more off-coverage. Kansas City plays more press, so it felt like you had to work for those yards even harder. Despite all that hard work, the Chiefs were the first to get up on the board in the second quarter, leaving us trailing.
But in less than two minutes, we found the end zone twice to tie the game heading into halftime.
In the second half there was some back and forth. After coming back to tie the game, we ended up trailing by one touchdown in the final quarter, leaving us one final drive to prove to the doubters that the Broncos could get things done.
Jogging onto the field, I knew this was the moment I'd been waiting on. I got an opportunity to tie the ball game up. I knew it was a big game. Thursday Night Football, I know a lot of people are watching. I knew a lot of people were watching and waiting to see what Peyton Manning can do down this last stretch.
We marched to the Chiefs' red zone, our goal well within our grasp. But the Chiefs' defense stepped up and it was suddenly third-and-10.
All I was thinking about before that snap was running a perfect route. We've done it over and over, and I knew if I ran my route and I sold it that I would be wide open.
It couldn't have worked out any better — besides the celebration. I was so excited I was getting ready to run into the stands of Kansas City fans.
I know people are hard on my teammates and are hard on my quarterbacks. It was just good to go down and score to tie that game up and give us the opportunity to stay in the game.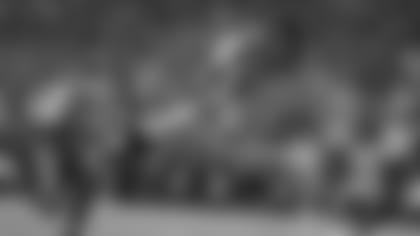 After, I went to the sideline to talk to Peyton and we were discussing going down and scoring in overtime if we win the coin toss. And then I look on the screen and I see Bradley Roby run into the end zone and I'm wondering, "What is going on?"
It was one of those plays that are too good to be true. I was like, *All right, I know he didn't just fumble that ball and I know they didn't just run it. *But then you realize that it did happen and we just won the game.
The locker room was loud after the win and there was plenty of celebration, but we still have a lot of season left to play and the Detroit Lions are next.
Every game is going to be tough. Detroit has wide receivers Golden Tate and Calvin Johnson. On defense they had the No. 1 defense in the National Football League last year — and we're going on the road on Sunday Night Football. They're going to be excited. It's their first home game so we definitely have to mind our P's and Q's. We've got to go out there and handle our business.
Despite everything that goes on, I never worry about the outcome. I just go and try to take it one game at a time and just try to be perfect. How you are perfect on the field is by taking it one play at a time. You can't think about the next play or the play after that or the game after that. You've just got to lock in and try to run the best route that you can possibly run, catch the ball and then move on.