I finally got my first NFL touchdown during Monday night's win over the Houston Texans. It was everything I ever dreamed about — prime time, Monday Night Football, the whole world watching. I think that's what made it the most special. I knew my entire family and all my friends were watching so it just made that feeling even better to know that I was sharing that moment with them.
But now, I'm about to have an even bigger opportunity.
Come Sunday, I'll be the starting running back for the Denver Broncos. Obviously, we want C.J. Anderson to be healthy to play, but since he can't go, I've got to step up.
I've come a long way since my first NFL carry. Yeah, the one I fumbled. But I bounced back. A lot. People probably didn't know this, but I also missed a pass protection later in the game so there were a lot of things I needed to learn.
It was an eye-opening experience for me, but it caused me to take a whole different perspective on how I study film and how I prepare week after week.
All I wanted after that first game was just another opportunity to go out there and make the most of it. The following week, I went out there and did well. Each week since, it's just been about me going out there and making the most of any carry that I get, any play that I'm a part of because I'm starting to play with the confidence I needed to be successful.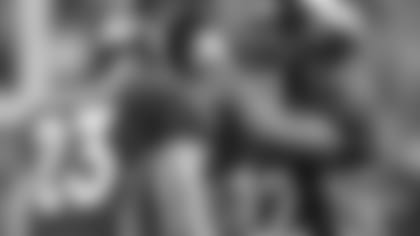 Playing with that confidence? I learned all that from C.J. He wanted me to get more carries. He told me that if I wanted to get more opportunities, then all that started in the film room. Last week, I came out confident in my ability and I believe I complemented him well.
And now, I'm going to have to use that advice to replace him as the starting running back in a divisional game vs. the Chargers.
I'm going to be the starting running back for the Denver Broncos. But that's not going to change anything with how I prepare.
Just stay calm. Do my best. Play with confidence.
Sunday afternoon when they announce the starting lineups, it's my name that's going to echo through Sports Authority Field.
I can hear it now, "From the University of Utah, running back Devontae Booker!"
Man, that's going to be real nice.
It's time to take this opportunity, and run with it.