My forearm is good — at least, as good as it can be for four weeks since surgery. Every week, I'm just letting it heal and trying to do whatever I can to keep myself ready for whenever I'm cleared to get back out there. Hopefully, that's as soon as possible.
Since I've been on the sidelines the last couple of weeks, I've seen firsthand what's caused our two-game losing skid.
First, I have to say that sometimes you just get a little bit of humble pie. It's good to lose a game or two to show you just how hard it is to win in this league and what it takes to win at the highest level.
With that said, a lot of guys have revamped themselves after these two losses saying, "Hey, we need to go back to the fundamentals of what we do best."
Do the small things. Don't try to do too much. Just get out there and play.
That's what this week has been about.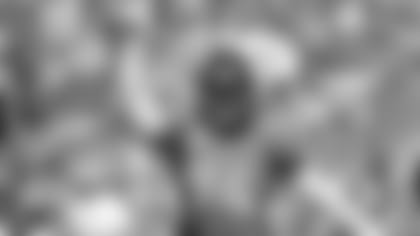 The thing that's been missing from our game is the edge. And, the edge comes from practice. Sometimes you can't just go out in the game and have an edge. You have to practice that week in and week out.
Stripping the ball, running to the ball, finishing plays — all those things are done in practice. And then, it carries over into the game.
As a conglomerate, we've taken note of this. Everyone knows that in order to improve, we have to get our edge back, and that process has already started this week in practice.
But, this game is already a little different. We're playing on Monday night. It's the only game that people are watching. It's a high-stake game, especially playing against the Houston Texans — a team that many people in this organization are connected to in some way.
We're trying to get a win. We're trying to showcase our talents to the world. We're trying to build our identity as a football team.
Every win in this league is a win — that's regardless of anything. But we need to get back on a consistent streak of what we do best. This week's game proves that every game is more important than the last one.
We need to go out there and prove to ourselves what we do. We know what we do, but now we just need to remind ourselves of what we can do when we have that edge.