My first touchdown against the Chicago Bears was good, but it was more of a relief. I finally got to show everybody what I can do and that I can make plays when the ball comes my way, but it was a relief to myself.
It's a big weight off my shoulders and it happened to come during a good week after I visited Carson, a patient at Colorado Children's Hospital. When I was visiting with Carson, he said, Man we need to get you in the end zone and get you some catches, and I'm like, They're going to come. Then I asked him, What would you do if you were in the end zone?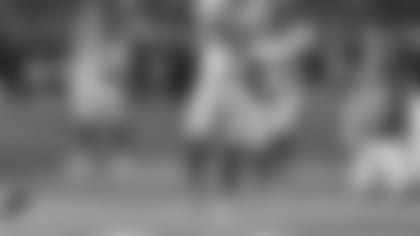 And then he did his little pose with his arms crossed in front of him. Right then I promised him that when I get in the end zone I would do his pose. So on Sunday, as soon as I got in the end zone, it was the first thing that popped into my head.
I told this young guy that I'm going to do his pose for him and that was the first thing I thought of when I scored.
On Tuesday, Carson's mom sent me a video that during physical therapy, where he's learning to walk again, he stood up and did his pose.
Having Carson be a part of that game made it special, but also seeing Brock Osweiler do so well in his first start made it even more memorable. Brock and I have been working together every practice since I got here.
People don't see during the day or before the game, but Brock warms up like he's about to start, to the point where you'd think Brock was the starting quarterback.
He brings it everyday in practice. Whether it's film, study, or thinking of different ideas -- he's always prepared like he's a starting quarterback. It wasn't a shock to me that he did so well.
But what did shock me was how he stood in front of our entire team Saturday night and spoke like he had done it a million times. Most people are nervous in front of the team, but he was so confident. After the meeting, everybody was so hyped about it because we knew we could trust this guy because he is so confident -- let's go ride for him.
With the adversity that we've gone through this season, it's amazing to see everybody step their game up. It's looking good for us and I'm excited to see what we've got against the Patriots.