People always ask me how I seem to be in the right place at the right time when it comes to game-changing plays.
Honestly, it's something I can't really explain. I've just always been this way. Whether it was the forced fumble vs. the Steelers in the divisional round of the playoffs or this week's pick-six, I just have this ability to turn the game around when I get an opportunity.
Maybe it's because I anticipate them. I expect these plays to happen. I visualize them. So when they happen in real life, I'm just ready for them. I really think that's all it is.
Last Sunday, my visualizations became a reality and yet again, I was altering the game in our favor.
We were down 7-3 in a big rematch against the Chargers in the middle of the second quarter. Out of the corner of my eye, I saw that quarterback Philip Rivers' ball was a little high, so I thought to myself, "Man, he (WR Tyrell Williams) might drop this."
As soon as it touched Williams' hands, I saw the ball fly in the air and luckily I was able to find it. I think everyone saw my athletic ability there as I was able to intercept Rivers' pass.
It's been a really special week for me. 
I don't think it was a coincidence that the week I earned AFC Defensive Player of the Week honors was also the same week that I was recognized by the league for my work off the field, as well. Being named the NFLPA Community MVP as well just shows that I must be doing something right. 
For me, it's important to live a balanced life. I like to take real-life events in my life and let them teach me. For me to get my first pick-six ever on kind of a lucky play in the same week that I'm honored for my work off the field, it shows me that being out in the community is just as important as well.
Filling the void of a player like Aqib Talib is no easy role.
I think something a lot of people don't know about Aqib is that he prepares for a game unlike any cornerback I've ever seen. It was him who taught me that preparation is the biggest determinant of your success. Studying film is basically like getting all the answers for the test before the test. So why would you not study it like crazy in order to get a 100 on the day of the test?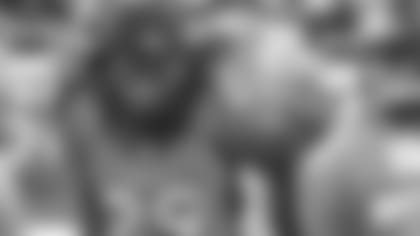 The NFL season is long, and we're just at the halfway mark. Looking back at these first eight games, we're 6-2. There aren't many other teams in this league that can say that. Now, there's plenty more that we need to do to improve as a team in order to have success, but we're in a good spot right now. 
For me personally, however, my 2016 season didn't exactly start the way I planned. I wasn't playing as well as I could at the beginning of the season, and I haven't had as many snaps as I had last year.
But now that's all starting to change. So I'm just taking advantage of that. Who knows, maybe it's because I anticipated it.