Guys like me don't usually get to make plays like my fumble recovery, so I had to make the most of it.
I had literally just put a guy on the ground and I look up and the ball is just sitting there. I'm like, "Oh my goodness!" I'm a kid in the candy store at this point.
I jump up, grab the ball and tried to make a little move, but by the time I made that move someone had already jumped on my back to tackle me.
Aqib Talib had been calling for the ball. I knew he wanted it. He wanted me to pitch it to him.
But he wasn't going to get the ball from me, because like I said, guys like me don't usually get to make plays like that. Plus, Aqib already had two interceptions.
Joking aside, that's the best part about playing in Defensive Coordinator Wade Phillips' defense, though. It's not just one or two guys making plays on the field. Wade's defense allows all 11 guys to make plays. It allows everyone to have a part, have a role.
I've played with a couple different teams and been around the league for a little while. This Denver Broncos' locker room is not like the rest. That's what makes this team so special. Playing alongside guys like Aqib or T.J. Ward, Brandon Marshall, Derek Wolfe, Jared Crick, they just make the game so fun.
When you're winning, things are great, but when you're losing, you know you're going to have those guys to push you, to get you going, and we're all going to work to get to the top.
And it's not just the defense. It all comes back to the team chemistry here. Everyone in this locker room talks to each other. It's not just a bunch of individuals, a clique here or a clique there.
I talk to the offensive line. I talk to our kickers. I talk to our tight ends. Other places I've been at were not like that. You didn't have defensive linemen talking to offensive linemen as friends. They were kind of just two different groups.
I've known center Matt "Dice" Paradis for years. I talk to him every day. He gives me feedback about the offensive linemen that he watches on film, giving me insight on a guy's tendencies or where he's expecting to get to on certain blocking schemes. It just makes my job easier when you've got a guy like Dice to help you out in the long run.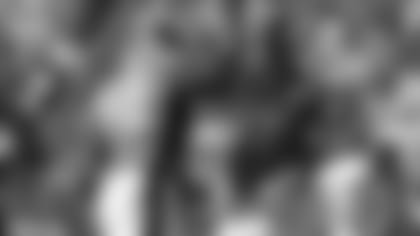 This week's another challenge. It's the NFL. There are 16 challenges during the regular season.
I'm more familiar with this Falcons offense because I was with the Falcons' offensive coordinator, Kyle Shanahan, in Cleveland. I know how his scheme works. First and foremost, it's very balanced. It's hard to find any tendencies from these guys just because they are so balanced. You never know where the ball is going to hit or where the ball is going.
It all starts with the run game. They run the ball extremely well. We want to harp on it, we want to pay attention to it, but it's hard to get a beat and get a feel for it. Plus, they run it both left and right. It will be a challenge.
But again, it's the NFL — another week, another challenge. And if I'm betting on any locker room to get it done, I'd choose this one every time.