DENVER --A trip to the Super Bowl is fuel enough.
But for the Broncos, a week of hearing about the Patriots' greatness and the inevitability of a New England win provided the best additive to a gas tank's reservoir since Barf and Lone Starr poured Liquid Schwartz into the Winnebago in Spaceballs.
They heard the pundits. They saw Sports Illustrated predict not just a Patriots win, but a 42-17 beatdown against a defense that had not allowed more than 29 points at home all season.
Their rage grew. Numbers couldn't quantify what the Broncos -- especially those on their top-ranked defense -- felt every time the Patriots' expected dominance was trumpeted.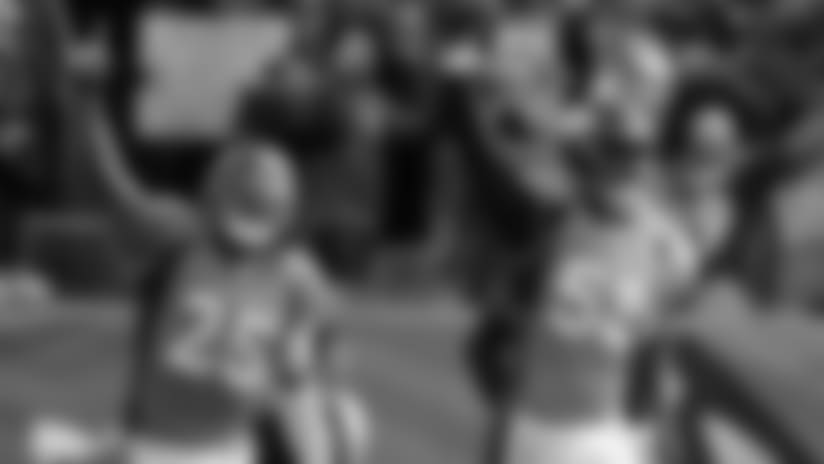 "We just felt so disrespected. I felt disrespected," said Chris Harris Jr.
"Me, too, Chris!" called out Aqib Talib, listening from a few feet away while answering questions of his own.
Never mind that elite defenses have beaten elite offenses more often than not since time immemorial. Forget that Tom Brady came into the game 2-6 all-time in Denver, with his only wins in games quarterbacked by Tim Tebow and backup Danny Kanell, or that the Broncos defense was back to full strength after playing all of Week 12 without DeMarcus Ware and most of it without Sylvester Williams and T.J. Ward.
None of that seemed to matter one bit.
So the widely accepted narrative of the week was that the Broncos were a speed bump for New England. Even the fans weren't immune to the barbs flying from Beantown, as one New England writer pilloried the Broncos for having a "low-I.Q. crowd."
You don't need a Mensa card to know when to make noise that discombobulates an opponent. Together with a defense that was propelled by anger, the Broncos stymied the Patriots, ultimately making enough stops to seal a 20-18 win that sent them to Super Bowl 50.
"We felt like we were totally disrespected by everybody in the media," said Ward. "I don't think I heard one telecast about us winning. And as good a defense as we've been playing all year, that was the focal point: that Tom Brady was going to shred us apart. So we took total disrespect [from] that. Total disrespect."
"So we wanted to prove a point to everybody," added Harris.
Brady bore the brunt of the Broncos' fury, as the Broncos hit him 20 times in an all-out assault that evoked memories of the defenses Wade Phillips coordinated in Philadelphia in the late 1980s, when he worked under Buddy Ryan and learned concepts from the 46 defense that he has sprinkled throughout the defenses he's guided in the 27-plus years since his last game with the Eagles -- the infamous "Fog Bowl" in the 1988 divisional playoffs.
But New England's receivers took a pounding, as well. The Broncos minimized New England's opportunities for free releases, attempting to disrupt their timing by hounding them at the line of scrimmage.
"We're like, 'Okay, we'll put hands on them and disrupt his timing, and know that y'all are going to get there,'" Harris said, "and that's what we did all day."
And now, with the 15-1 Carolina Panthers looming on the heels of an NFC Championship thrashing of the Arizona Cardinals, the Broncos know what they'll hear for the next two weeks: more chatter about how they will buckle against a fearsome foe.
"They're going to have us as underdogs. They're going to pick us to lose," Harris said. "They're going to say we can't cover or do anything."
And that's just what the Broncos want.
"Hey, go ahead. We feed off that. Keep us the underdog," Ward said. "Tell us how bad we are, and how we can't cover and stop this person, and I bet we win the Super Bowl."
They'll have their chance now, in part because the three keys came out in their favor:
Von Miller stole the show with 2.5 sacks, and DeMarcus Ware dropped the hammer on Tom Brady late, but it was the pressure from three-technique defensive ends Derek Wolfe and Malik Jackson that first rattled Brady's cage.
Wolfe, Jackson and Vance Walker combined to hit Brady eight times from the inside, replicating the pressure they mounted on Brady during the Broncos' overtime win over the Patriots in Week 12. They were also stout against the run, which effectively made the Patriots one-dimensional, as none of their running backs had a single carry for more than eight yards.
Not only did the Broncos leave few seams for Tom Brady to exploit, but they largely limited the Patriots from turning short and intermediate passes into long ones. Only on Gronkowski's 34-yard catch-and-run did the Patriots rack up more than 15 yards after the catch on any one play.
Denver also won the battle in the red zone. The Broncos got 17 of a possible 21 points on drives that advanced to at least the New England 20-yard-line, while New England mustered just 15 points on five possessions that got inside the Denver 20, including two turnovers on downs as Denver's defense contracted and capitalized off the Patriots' attempt to chase points in the wake of Stephen Gostkowski's game-altering missed extra point.
When Ronnie Hillman couldn't field a lateral from Peyton Manning late in the first quarter, it looked as if New England had the kind of break that has typically propelled it to victories. Few teams are better at capitalizing off breaks, as evidenced by the Patriots' 138-12 record in the Bill Belichick era when having a positive turnover margin.
But when Miller faded into coverage and intercepted Brady, the Broncos had evened the scales. Two takeaways deep in opposing territory led to scores that would have canceled each other out if Gostkowski had made his extra-point attempt.
New England dropped to 36-45 in the Belichick era when having a negative turnover margin.
The Broncos are going to the Super Bowl Patriots in the AFC Championship. These are the best snaps of the game.