DENVER --It was meant to be like this, right?
The Sports Authority Field at Mile High crowd roaring. The Broncos' defense standing its ground, digging in to make one final stop to preserve the game, needing one more play to escape. The script was the same as it had been so many times during the season. Only the opposing jerseys and helmets changed.
From Darian Stewart's end-zone interception in Week 1 until Tom Brady faded back under intense pressure for a two-point conversion with 12 seconds remaining Sunday, it was all the same. The defense dug in. Pressure poured in from all sides. A game-deciding play followed.
It happened against Baltimore, Kansas City, Minnesota, Oakland, Cleveland, Chicago and New England, Cincinnati ... you get the idea.
Looking more like the "Survive and Advance" North Carolina State Wolfpack of the 1983 NCAA basketball tournament than any football team of recent memory, the Broncos arrived at a moment where their season rested in the balance steeled by one clutch defensive stand after another.
"We've been in those situations all season. I mean, all year," said cornerback Chris Harris Jr. "We're used to it now. It's something that's not out of the ordinary, to be in a tough situation with the game on the line for us on fourth down. So we thrive in those situations. That's when we like to make our plays."
And it happened again. Aqib Talib deflected Brady's pass and Bradley Roby secured the interception. Pressure made it happen -- "an all-out blitz, what we've been doing all year," Harris said.
Shiloh Keo fielded the subsequent desperation on-side kickoff attempt, and it was all over.
The Broncos and the greatest defense they have fielded since the salad days of Joe Collier's Orange Crush were Super Bowl-bound.
And they got there knowing they had beaten the best -- at their best.
Not only were the Patriots the defending champions, but by the end of the game, the Tom Brady-to-Rob Gronkowski connection was clicking as it rarely had -- which is saying a lot, given that Gronkowski is, by some distance, the most productive pass-catching tight end on a per-game basis in NFL history.
Gronkowski's lunging 40-yard grab between two defenders on fourth-and-10 with 1:34 left in regulation gave the Patriots one last gasp, which became breaths of palpable hope after he grabbed a fourth-down pass four snaps later in the back of the end zone to give New England the opportunity at the game-tying two-point conversion.
These Patriots, as is their wont this century ... WOULD. NOT. DIE.
"When you play against Gronk and Brady, it's never over with those guys," Harris said. "We thought after we got done on the fourth-down situation [with 2:18 left in the fourth quarter] that they weren't even going to get the ball back."
But the Broncos defense matched the Patriots' resolve. With starting safeties T.J. Ward and Stewart injured and watching from the sideline, and with No. 3 and 4 safeties David Bruton Jr. and Omar Bolden already on injured reserve, the Broncos had Josh Bush and Keo playing deep. Bush wasn't even on the team for two and a half months after being released in September; Keo spent the 2015 season out of football until last month.
It didn't matter. The Broncos -- and this battle-hardened defense -- had just enough left to survive. Every practice, every game, every close-and-late situation readied the Broncos for Sunday, when they flummoxed the Patriots and did not finally buckle until the fourth quarter -- when they allowed the Patriots three forays into the red zone, but only yielded a single touchdown.
"I think it's pretty typical. It's been happening all year," Ward said. "We've been put in these types of situations all year. We trained for them. We're game-trained for these type of things. It's fitting it comes down to that, and we make the play."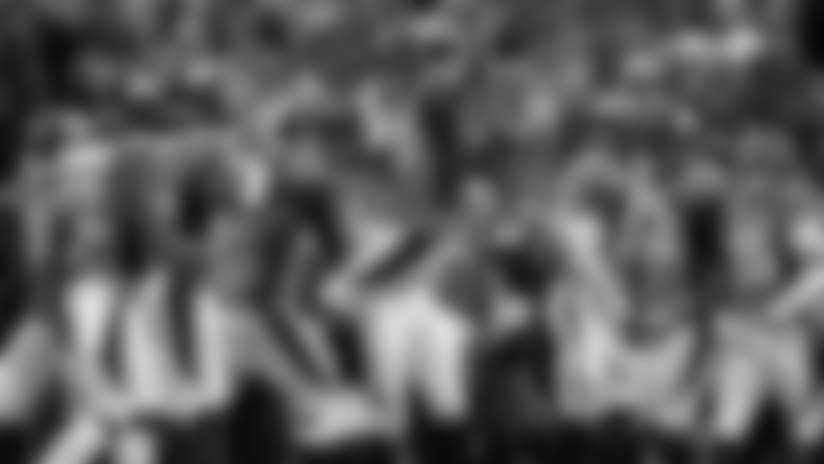 Denver didn't get to Super Bowl 50 by pouncing on a wounded foe. It did so against a group of skill position players that, when together, had averaged 33.62 points per 60 minutes this season. With Gronkowski, Julian Edelman and Tom Brady together, New England had the league's most efficient and potent attack.
That was the unit that the Broncos held to just 18 points on 14 possessions. That went three-and-out four times Sunday. That buckled under pressure and creative tactics, including using Von Miller in short zone coverage on a play with a three-man rush. Brady didn't see Miller, and the All-Pro linebacker snared the pass, setting up Denver's second touchdown three plays later.
"I think Tom was like, 'Oh, what's going on,'" said Ward. "He probably thought I was man on Gronk. He looked over and I was off of Gronk, and then Von was in that same spot. So that was a great play. Von played phenomenal today. I have never seen a performance like that from one player -- 2.5 sacks, a few hurries, a pick."
Miller had more sacks. DeMarcus Ware got to Brady more often, hitting him seven times. But when combined with the inside rush from Malik Jackson and Derek Wolfe, the Broncos hit Brady 20 times, preventing him from finding the rhythm he had most of the season.
In retrospect, all of this should have been clear. The Broncos have won games like this before. Their defense wore down Brady in Week 12, stripped Aaron Rodgers of his weapons in Week 8, battered Philip Rivers in Weeks 13 and 17, contained Ben Roethlisberger in the playoffs, flustered young, ascendant Pro Bowl quarterback Derek Carr in Weeks 5 and 14 -- even though other issues led to the Raiders escaping with a win once.
Those issues weren't present Sunday. The offense did what it needed, and aside from a lapse on a lateral, made few mistakes. Special teams helped pin the Patriots deep in their territory; Colquitt's punts and outstanding coverage from Kayvon Webster and Cody Latimer in particular forced the Patriots to start four drives inside their 20-yard-line.
This is the Broncos' equation: offense that is effective in spurts, a helping hand from special teams and a suffocating defense. Lombardi Trophies have been won this way; ask the 2000 Ravens or the 2002 Buccaneers.
"I can't say enough about our defense. They're just the best. They're the best," offensive tackle Ryan Harris emphasized. "I'm fortunate to be playing on their team."
And it was appropriate that the Broncos made the Super Bowl on the wings of its dominant defense. But its job is not done.
"We don't just want to be Super Bowl attendees," said Ward. "So there's lot of work to be done. We've got two weeks to prepare [for] Carolina, and I guarantee we'll be ready when we come in there."
After defeating the Patriots in the AFC Championship, the Broncos took time to celebrate.