SANTA CLARA, Calif. --Every Bronco had watched Cam Newton from afar over the last five seasons -- and some have played against him, including those who were on the 2012 team that dismantled the Panthers 36-14 in Charlotte.
But that was years ago -- and the Newton of Feb. 7, 2016 will be different than the one the Broncos saw.
"They've got a different scheme going for him," said defensive end Vance Walker, who faced him four times in the 2011 and 2012 seasons while playing for the Atlanta Falcons.
Between the change in offensive coordinators from Rob Chudzinski to Mike Shula, the maturation of Newton and the natural evolution of personnel, the Panthers' attack is more diverse than it was in the early 2010s.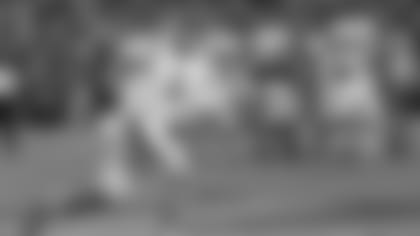 "They've got a lot more options," Walker said. "They might run the belly read, but it might be the belly-read reverse. I know back when I was with the Falcons, there was a lot of belly read, so it was the quarterback and the running back.
"They've really brought the whole offense into it."
The running backs became bigger threats this season than in the previous two years. Carolina's running backs averaged 4.11 yards per carry and 96.0 yards per game. That per-carry average was their highest since 2012, and their per-game average was their best since 2011, Newton's rookie season, when the Panthers were less reliant on his arm than they are now.
"They're the best run game that we've faced," Broncos ILB Brandon Marshall said. "So we've got to be on it. I think if we stop the run, get them into some third-and-longs, some third-and-8s, third-and-7s, I think we can win the game."
But those third-and-longs are also dangerous. On 61.54 percent of Newton's third-down scrambles, he's moved the sticks.
Newton has also become more accurate, and as his precision has increased, so has his willingness to throw the football into narrow windows. Even a sliver of separation for tight end Greg Olsen and wide receiver Ted Ginn Jr. is enough for Newton to try and exploit it to make a play downfield.
"He's throwing the ball extremely well. He's putting it into tight windows," Marshall said. "He's making good decisions -- and he has a lot of time to throw the ball. That's what I've noticed."
Newton has an average of 2.85 seconds to throw, according to ProFootballFocus.com. Only four quarterbacks take more time to throw in the pocket: Buffalo's Tyrod Taylor, Minnesota's Teddy Bridgewater, Seattle's Russell Wilson and Green Bay's Aaron Rodgers.
He has time -- and he maximizes it, which is what Shane Ray noticed from watching the film.
"His pocket presence," Ray said. "One thing that Cam has been criticized about is his ability to throw the ball. I mean, as you can see, he's been pretty accurate. He's made some really good throws down the field and he's used his legs when he's had to."
Furthermore, Carolina's offensive line allows pressure on Newton just once every 3.88 pass plays, according to PFF; that is sixth-best in the league, and well above the league-wide average of one pressure every 3.41 pass plays. The Broncos' defense has racked up one pressure every 2.58 pass plays.
"Every time I watch the film, I feel like he's sitting back there, just patting his feet," Marshall said. "So that's one thing that we have to take advantage of. We have to get to him fast.
"We can't just let him sit back there, go like this," Marshall continued, tapping his hands together, "and try to dice you up or run for a first down."
The Broncos got to Newton in the 2012 game; they hit him on 10 of 43 dropbacks, including seven sacks.
"Yeah, he was a second-year guy then, so it's different now," Marshall said, "but that pressure -- that'll affect any quarterback."
But to truly contain Newton, that pressure must result in stops, whether it's pass rushers bringing him down for sacks or linebackers and safeties corralling him in the open field. It will be their responsibility to prevent short-to-intermediate runs from becoming backbreaking sprints, something that is evident on the film.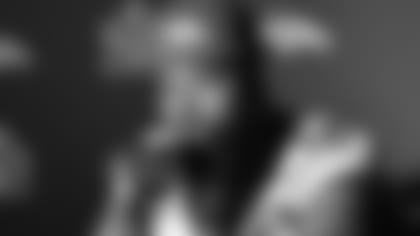 "You can see guys missing tackles," nose tackle Sylvester Williams said.
"The thing about Cam is that he's a very smart player, so if he doesn't see anything open, he'll use his legs; he'll pull that ball in, take off and find those gaps in the defense."
The Broncos haven't faced a player like Newton. But Newton hasn't faced a defense like this one. It's a strength-against-strength duel for which the Super Bowl was made.