SANTA CLARA, Calif. -- **Only one team in the last 50 years has entered this week with first-half postseason dominance like the Carolina Panthers displayed the last two games. Their plus-48 first-half scoring margin in the playoffs matches the 1990 Buffalo Bills for the most lopsided among a team to play in the Super Bowl.
You don't want to fall behind the Panthers, who grabbed multi-score leads in the first 11 minutes of play four times in their last eight contests, including both postseason games when they outscored the Seahawks and Cardinals by a combined 31-0 margin in the first quarter.
But the Broncos have something unique in their satchel: three comebacks from 14 points down against playoff teams. In forging a reputation as the league's most resilient team, the Broncos clawed back from two-touchdown deficits against the Chiefs, Patriots and Bengals.
"Us being down 14 to some very good teams, it lets us know that we're battle-tested, we've been there before, and we know what we have to do to get back in the games," said running back C.J. Anderson.
Lose one of those games, and the Chiefs are AFC West champions and the Broncos spend their entire postseason on the road. Worse, they would have had to play in the wild-card round, which would have been problematic given the Broncos' battered state at the time; they likely would have been without Brandon Marshall, Chris Harris Jr. and DeMarcus Ware in that round.
So if the Panthers have their characteristic flurry at the start, don't expect the Broncos to cower.
"There won't be any panic," said cornerback Chris Harris Jr. "We've been in those situations tons of times all year, and we've been in situations where we had to make a play on defense, and our back is against the wall all year. We're comfortable being in those situations. It's something we're used to."
In the rallies against the Chiefs and Bengals, it took accelerating the offense into a more up-tempo attack to rouse the Broncos out of their funk. In Week 12, it was a muffed punt by Chris Harper that kick-started the Broncos, who promptly sprinted to 17 consecutive fourth-quarter points against the then-undefeated Patriots.
"We have a never-say-die attitude," said ILB Brandon Marshall. "We never give up, no matter if we're down 14 or whatever the case may be. We always find a way to believe. We always find a way to get it done, and I think when we're in that huddle and we're down 14 or seven or something like that, we say, 'OK, we've got to get a stop here.' And the offense says, 'OK, we've got to put together a drive here.' We just keep at it. We never quit."
And they have faith in themselves, even when it appears it would be shaken.
"Overall, it's because we all believe in what we're going to do," left guard Evan Mathis said. "We all believe in each other, believe in the game plan, and then believe that we're going to get it done. And then you have a group of guys who are really just all-in to do this for each other, you don't have anyone who's quitting or slacking or anything like that, regardless of the situation."
That sounds simple, but it's actually complex and elusive. Every team aspires to have that sort of cohesion. Few achieve it, and only teams with that, the requisite talent and a little good fortune along the way end up navigating their way to a Super Bowl.
"Not every team has that," Mathis said. "It's hard to get the right amount of chemistry when you've got 53 guys and then add the practice squad -- it's a lot of egos in one room. There's a ton of character, but everyone gets along so well. It's the perfect formula."
That doesn't mean it's always smooth. One word often uttered this week by the players and coaches has been "family," with newcomers raving about having that sort of atmosphere.
But sometimes family members quarrel. It doesn't mean there isn't a firm foundation of love and respect; arguments are often a result of tense situations. But when the team is together, such discussions are resolved, bitterness quickly vanishes and everyone quickly returns to the task at hand.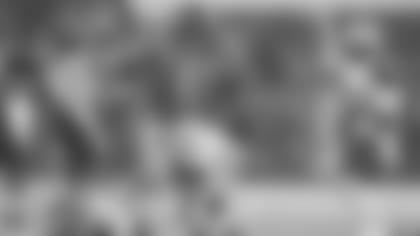 "Teams fight. We fight as a team," Anderson said. "We might be on the sideline yelling at each other -- which y'all probably don't hear, but NFL Films has [recorded] them -- but at the end of the day, we trust in one another to get the job done."
"Tough love is always acceptable," Mathis added. "And it's never really condescending or anything like that. When you have a sense of urgency about something it can kind of amplify your body language."
But the Broncos hope it doesn't come to that. Just because they rallied this season doesn't mean it could happen again. Carolina didn't get to 17-1 through smoke and mirrors; it happened by overpowering one foe after another, using those big leads to allow its defense to attack from up front, forcing errant throws that led to takeaways that expanded their lead.
Added Marshall: "We can't let them get out to a big lead. They've been getting out to huge leads. So we've got to hold them to a low point total, and I think we can win the game that way."
Oh, and those 1990 Bills who were just as quick from the blocks as Carolina? Like the Panthers, they entered the Super Bowl with a potent offense featuring an emerging fifth-year NFL quarterback making his first Super Bowl start (Jim Kelly) and a defensive boasting arguably the league's best player on that side of the line of scrimmage, future Hall of Famer Bruce Smith.
The Bills rolled into Super Bowl XXV to face a defensive-minded team that needed two starting quarterbacks to reach that point and had just won its conference-championship game by two points as a decided underdog. Sound familiar?
Those battle-hardened New York Giants defeated the Bills, 20-19. The Broncos now hope history repeats itself a quarter-century later.
The Broncos turned in their final practice before Super Bowl 50 Friday morning. (All photos by Eric Lars Bakke)