SANTA CLARA, Calif. --The road the Broncos took to Super Bowl 50 is not one they expected to take with Peyton Manning as their quarterback.
This was a season unlike any that Manning has experienced. His foot bothered him for a while before he left the Nov. 15 loss to the Chiefs because of a torn plantar fascia. He threw eight more interceptions than touchdowns in the regular season. He served as the second-string quarterback for a week leading into the regular-season finale before Head Coach Gary Kubiak put him back in the lineup with the team in need of "a spark" with a 13-7 deficit caused by five turnovers.
And now, he has an experience unlike one any other quarterback has had. No quarterback has ever started in the Super Bowl at age 39.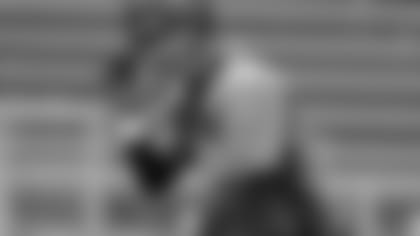 And that's just the beginning of Manning's unique collection of accomplishments.
No quarterback has ever started two Super Bowls at age 37 or older. No quarterback ever had the season-long numbers that Manning had in 2013 -- let alone doing it at age 37, as he did in setting league single-season records for yardage and touchdown passes.
No quarterback has ever gone to a Super Bowl with four different head coaches.
No quarterback has ever guided multiple teams to multiple Super Bowls, either. That ensures that when Manning retires, he will be thought of not just as a Colt, but as a Bronco. It also means that the Manning Era in Denver is a clear success, no matter what happens Sunday.
"When we signed Peyton, (there was) a sense of urgency," said outside linebacker Von Miller. "We got one of the best quarterbacks to ever play in the National Football League and he's on our team right now. So, when we got him, we already knew what type of team we were and we knew what type of football we could play.
"Having him now, we just want to seal the deal."
The rumors regarding Manning's future are rampant; no matter what he says at press conferences, he is relatively powerless to stop them.
This is the reality of being in the spotlight of the most-watched annual single-day sporting event in the Western Hemisphere (unless the Champions League final is in London, west of the Prime Meridian).
But the Broncos know the reality of contracts, age, accumulated wear and tear and a plantar fascia injury that will not heal without rest, surgery -- or possibly both.
The sense of urgency that has existed since Manning arrived with "No Plan B," as John Elway famously put it, increases exponentially Sunday. Far more than a Super Bowl is on the line; the legacy and place in history of Manning are, too. Win Sunday, and Manning's case as the greatest quarterback of all time will be compelling given his singular collection of team and individual accomplishments.
"If this was Peyton's last game, I know he'd want to play it like his last," said outside linebacker DeMarcus Ware. "It's been a motto of all the guys each week, play every play like it's your last.
"If it is, we have to send him off right and you know that you're going to get a game that probably nobody has seen. I'm looking forward to it."
Seven Broncos offered seven more thoughts on Manning as Super Sunday approaches:
| | |
| --- | --- |
| | Broncos Head Coach Gary Kubiak |
On the importance of Manning's experience: "Anytime you've played that long and in that many games, that means you've played against the coordinators many times and those type of things. So from a mental standpoint, obviously he knows the game better than anybody. With what's going on around football and who he's playing and how people want to play him, I think that's the biggest thing you gain is the experience factor. I think he's very well in-tune with our football team and what our team does best and what we think we have to do to be successful as a team. I think the most important thing is just the experience factor."
| | |
| --- | --- |
| | WR Demaryius Thomas |
On getting a connection with Peyton Manning: "Our connection has been amazing since Day 1. It took some time the first time we got going. It took time with everybody else. Once we got on the same page, we've been clicking since then. If I miss a game with him, it still just comes back."
| | |
| --- | --- |
| | OLB DeMarcus Ware |
On Manning's leadership: "When I first got in [in 2014], he's that leader that's been consistent throughout his whole career, and the guy that motivates us in the way that he plays, the way that he prepares and just that leadership that he brings to the team. People call him 'The Sheriff' and he always has his guns out, no matter what. It's just really enjoyable to be a part of that. It sort of teaches the young guys and me, myself, just the fire that you have to bring to the game every week."
| | |
| --- | --- |
| | LT Ryan Harris |
On blocking for Manning: "When I first went out on the field with him and you see the 'Manning' on the back of the jersey you're like, 'What am I doing here?' Over the season you see he's just like the rest of us. We all want to win and he's a professional and a great teammate. I'm really having the time of my life being on this team and him being one of my teammates is definitely a part of it."
| | |
| --- | --- |
| | OLB Von Miller |
On what he's learned from Peyton Manning: "When you hang around Peyton Manning for four years, there's a lot of stuff that's picked up -- a lot of stuff leadership-wise, and the way he handles guys. I've watched him, and he's consistent every single day. He's the same Peyton Manning. He handles the guys very, very well. That's one of the things I would like to do when I get up there (to) that level."
| | |
| --- | --- |
| | RG Louis Vasquez |
On what this game would mean for Manning's legacy if the Broncos win: "I can't speak for him if it's going to be his last year or not. If it is, then it would be awesome to send him off the right way, riding out into the sunset. But, if not, it would be just a dream come true just to win the Super Bowl, because that's why we all play this game. Guys like Evan Mathis [and] DeMarcus Ware that [have] been in this game for a long time that have never made it this far, it'd be good for them as well."
| | |
| --- | --- |
| | TE Vernon Davis |
On getting to know Manning since joining the Broncos in November: "Peyton Manning has been terrific. He is not only a great player, but he is also a great person. That is what I am more interested in. Who is he as a person? Getting to know him as a person has been amazing."