MOBILE --Fresh from a 46-degree afternoon that felt like a 26-degree day in Denver, your Day 2 Senior Bowl South team standouts ...
... The receiving star of the day for the South was Minnesota's K.J. Maye. ("North" and "South" sometimes have loose definitions in this game, although Maye grew up in Mobile.) A late invitee to the game, Maye's 5-foot-8 frame and 8 1/2-inch hands aren't going to wow anyone. But he runs crisp, precise routes, and had his longest gain on a double move in one-on-one drills.
Maye reminds me a bit of Jamison Crowder, a Duke receiver who starred here last year and parlayed that into a solid rookie season in Washington.
Maye's future is likely in the slot. When he ran out routes against bigger cornerbacks, he didn't have separation and struggled in his attempts to win jump balls. But on short inside routes and double moves, he's tough to defend.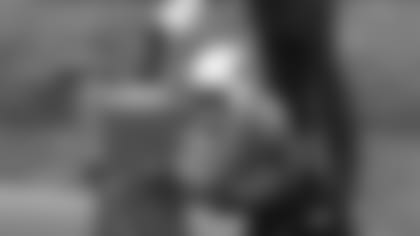 ... Louisville DT Sheldon Rankins has owned Michigan center Graham Glasgow during practice this week. On one play, Glasgow appeared to have done a good job guiding Rankins outside to steer him wide of TCU RB Aaron Green on a zone-read play.
But Rankins maintained his awareness, and despite being held up high, stopped and turned to make contact with Green from the back side, only holding off on the tackle because this was a practice.
Rankins has dominated his one-on-one work two days in a row. The 6-foot-2, 304-pounder plays with more athleticism and quickness than you would expect from someone over 300 pounds.
... Eastern Kentucky DE Noah Spence has perhaps the quickest reaction to the snap of any defensive end here this week, and used that to burst into the backfield on run plays. On one such play, he worked as a stand-up wide seven-technique and easily blasted past Texas Tech left tackle Le'Raven Clark to the point where Clark barely put a hand on him.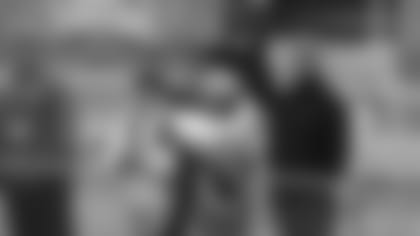 ... Baylor WR Jay Lee showed off his athleticism by coming within an inch of a one-handed catch at the sideline; he was barely out of bounds. Lee also ran some good routes, in particular a beautiful stop and go that froze Alabama CB Cyrus Jones and created five yards of deep separation. But the play ended in an interception when N.C. State QB Jacoby Brissett got too much air under the pass, allowing Middle Tennessee State safety Kevin Byard to read the play perfectly and get a leaping interception at the defense's 2-yard-line.
... Georgia OLB Jordan Jenkins plays with speed and explosion. Tight ends and running backs that faced him in the one-on-one pass protection drills found it difficult, if not impossible, to contain him from getting back to the quarterback's spot. However, he needs to improve in coverage; he froze as Aaron Green cut outside, creating five yards of separation that would have cost him a touchdown if Jake Coker had not overthrown Green.
... Northwestern FB Dan Vitale continued to impress as a blocker. He does a good job squaring up, and also is outstanding at taking advantage of a pass rusher's speed and guiding him around and away from the quarterback. He also runs good routes into the flat, but dropped an easily catchable pass from Arkansas QB Brandon Allen in the left flat during one-on-one work.
... William & Mary safety DeAndre Houston-Carson is one of the players carrying the FCS banner. In the safety pass-rush drill, he showed some good spin moves and quickness to attack the quarterback, and in coverage is rangy and covers a lot of ground. He looks like a solid second-day pick, and if he adds 10 pounds of muscle to his 197-pound frame, could be the kind of safety that you bring into the box from time to time.
Houston-Carson did have some trouble with South Carolina TE Jerell Adams on one repetition -- but that was because Adams gave Houston-Carson a head slap as he cut out to the sideline.
... TCU RB Aaron Green does a nice job using his hands and feet to get separation as a receiver. In a one-on-one rep, he took a half-step inside, then broke outside, using his hands to get further separation from Oklahoma LB Eric Striker and easily catch a pass from Brandon Allen in the right flat.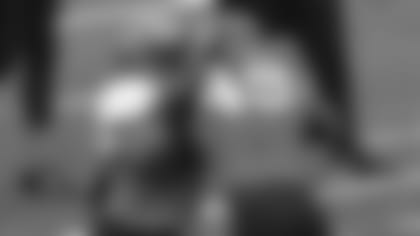 ... Texas Tech RB De'Andre Washington showed tenacity in pass-protection drills. He is the same height as C.J. Anderson, but is 25 pounds lighter. However, when he went up against Florida's Antonio Morrison (6-foot-1, 232 pounds), he held his own, getting his feet set and working from a good base that allowed him to hold his ground as Morrison charged into him. However, Washington held Morrison toward the end of his block, and will have to learn how to hold off a pass rusher without resorting to tactics that will surely elicit a flag.
Washington is a good route-runner, as well. He deked inside on LSU linebacker Deion Jones and then took off up the right sideline, adjusting well to the flight of a Brissett pass downfield.
… Brissett has a tendency to get too much air under his deep passes, forcing the receiver to adjust and allowing the defender to catch up.
... The team that drafts Georgia WR Malcolm Mitchell might have to use him on pass defense in "Hail Mary" situations, since he has good instincts in that role. After getting upfield on Auburn CB Jonathan Jones on as top-and-go, the pass was off, and Mitchell chopped his left arm on Jones as the ball arrived to prevent a near-certain interception.
... Mississippi State QB Dak Prescott didn't have a great day, misfiring low on some passes that should have been easy completions during the team period. He didn't do as good a job of setting his feet as he did Tuesday.
... Alabama QB Jake Coker had a solid day when he remained in the pocket, but overshot some receivers when he got outside. When Coker has at least 2.5 seconds, he's able to get to his second read, and does a good job scanning the field. However, he doesn't feel the back-side pass rush as well as you'd like him to, which would lead to trouble in a game situation.