MOBILE, Ala. --Over the bay and across the bridge we go to North team practice, which concluded the day's whirlwind work. Notes follow ...
... All eyes were on North Dakota State quarterback Carson Wentz. He was the first quarterback up for the North team, befitting his status as potentially the highest draft pick here, and he did not disappoint, displaying excellent pocket poise under pressure and a crisp, strong delivery with plenty of velocity on throws outside the numbers.
Wentz does a great job with his pump-fake and his eyes, using both to draw safeties out of position so he can make the throw he wants. It's only one day, but he looks like the real deal.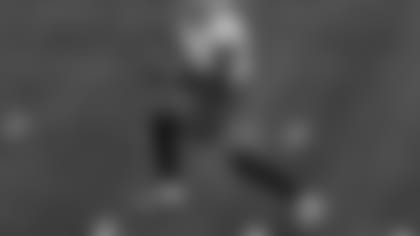 ... Ohio State's Braxton Miller looked comfortable as he makes a total transition from quarterback to wide receiver.
Miller also worked on punt returns and looked as though he'd received plenty of instruction on proper technique, catching the football with his hands rather than using his chest to secure the football. He also showed good vision on punt returns, which could represent his window to make an immediate impact as a rookie.
... Speaking of Buckeyes, the successor to Jeff Heuerman, Nick Vannett, teamed with Wentz for a deep connection in seven-on-seven work. Vannett was able to take advantage of Boise State safety Darian Thompson being distracted by a receiver going up the right sideline, and cut in on post route for a 30-yard connection.
... Virginia cornerback Maurice Canady showed great awareness and quickness, epitomized when he stripped Rutgers wide receiver Leonte Carroo of the football just as he caught a strike from Wentz on a slant route. Canady had prevented Carroo from gaining any separation; the only reason the pass was completed was because Wentz led Carroo perfectly, but Canady quickly spoiled it by stripping the football.
... Louisiana Tech running back Kenneth Dixon had one of the best runs of the day when he bounced outside away from the flow of the play and turned upfield for a long gain to the right side. But the man who made the play possible was Iowa tight end Henry Krieger-Coble, who guided Lombardi Award winner Carl Nassib with the flow of the blocking to the left side, allowing Dixon to cut back and take off.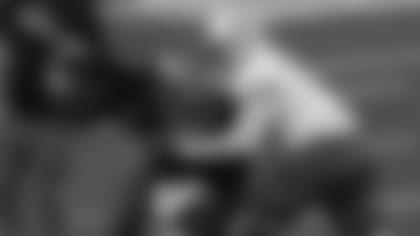 ... That play was one of few blips for Nassib, who dominated in pass-rush work, as you'd expect for someone with 15.5 sacks last season at Penn State. Although the 273-pound Nassib isn't an ideal size for a 3-4 alignment, he believes he can add some weight. In addition to his pass-rush moves, he has terrific length (he's 6-foot-6.6 with 34.5-inch arms), which gives him the chance to make as many plays obstructing passes by getting his arms up as he does with a straight-up pass rush.
... Working against the run, Temple defensive tackle Matt Ioannidis showed quickness and blew up some carries by being quick off the snap and using a swim move to burst into the backfield.
... This was an impressive day for Temple's defensive prospects. ILB Tyler Matakevich showed outstanding awareness and was the best linebacker in coverage on tight ends on either team. Cornerback Tavon Young allowed little to no separation and was quick in his breaks on the football.
... I always like to see how players progress from the first day to the second (and the second to the third, but given that this is a Super Bowl season and I need to be at the UCHealth Training Center on Thursday morning, that isn't happening), and as a result, I don't like to jump to negative conclusions after the first day.
But of the quarterbacks, Louisiana Tech's Jeff Driskel appears to have the longest way to go. He looked tentative and unwilling to squeeze the ball into reasonable windows. On one seven-on-seven play, he opted to scramble after waiting several seconds. On some team-period snaps, he waited too long and missed some potential open receivers.
... USC QB Cody Kessler is the shortest quarterback in Mobile (6-foot-1.2) but has the third-biggest set of hands among the eight quarterbacks here (9 7/8 inches).