You might know Flula from his YouTube channel, or from his role in Pitch Perfect 2 — but either way, you've probably laughed out loud at his off-the-wall antics.
A German DJ and Internet personality, Flula made an appearance at Monday night's Super Bowl Opening Night to get in some questions for his YouTube channel. In between his interviews, DenverBroncos.com got a couple minutes to turn the table and ask him some questions.
You've been asking everyone what they do to get ready for a big game but I want to know: What would you do to get ready for a big game?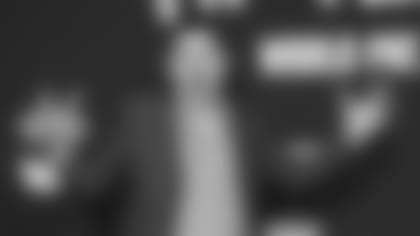 "If I was to watch the game as I'm viewing it, I would first make five hours of stretching and then another six hours of looking at my hamstrings, because sometimes those become very tight and it's confusing. And then I would look at two heroes: Jonathan Elway and Peytonian Manning, who are very good at the nickel … quarter … QBs. They are very good at that and I would observe their spirals."
What kind of  music would you listen to before a game?
 "I would listen to all of the Beastie Boys and also Tracy Chapman."
What is your favorite sport? Is it football?
"I enjoy basketball, but today American football is my most favorite."
Who do you think is going to win on Super Bowl Sunday?
"I think your 'Bronc Broncs' are going to be very strong, strong."
Are you going to the Super Bowl?
When you're watching at home this weekend watching the game, what food are you going to eat?
"I'm going to eat my pride."
What does your pride taste like?
"It's like an old burrito."