SANTA CLARA, Calif. --Barely seven weeks from his 40th birthday, Peyton Manning stood in front of another crowd of reporters Thursday, answering another set of questions in anticipation of a game that will, for better or worse, help define his legacy and his football life.
No starting quarterback has ever had so much experience heading into a Super Bowl -- experience through victory and defeat, exposure to myriad situations, the continued evolution of the sport into one more aerial-centric than ever before and, finally and most importantly, the coaches that guided him along the way.
In the professional ranks, that started with Jim Mora in Indianapolis, who Manning knew from the coach's time on the Saints sidelines, when he even let Manning run a period of practice as a high-schooler against the Saints' then-elite defense.
"He was a tough disciplinarian and I think really helped our team," recalled Manning "Even though Coach (Tony) Dungy came in and took over, Jim Mora taught that team and taught all of us about discipline and about how to be a professional and approach your business and your craft with a serious tone. I really enjoyed playing for him."
Mora understood what he had in Manning, and knew the value of patience with his then-young quarterback.
"He stuck with me that year [1998] all season," Manning remembered. "We went 3-13, I led the league in interceptions and still hold the rookie record for interceptions, which I really pray maybe this kid [Cal QB Jared] Goff who gets drafted this year breaks it this year."
All joking aside, Mora got to reap the benefits of Manning's rapid development before the 2001 Colts limped home 6-10, wrecked by injuries. That remains the last losing season in which Manning took a snap. Mora was dismissed and replaced by Tony Dungy, who guided the Colts to seven consecutive playoff appearances and a Super Bowl XLI win.
"Tony Dungy -- you have to check old notes for that for how I feel about him and what I have learned from him," Manning said. "He was a special guy to play for and had a unique way of leading and coaching. 'No excuses, no explanations' was one of his catch phrases and I think that is a good one to always remember."
And in looking back at the old notes, one example of what Manning learned from Dungy stands out: composure under duress. When the Colts trailed the Patriots 21-3 in the 2006 AFC Championship Game, it seemed as if the RCA Dome would collapse in panic from fans stunned at a potential third postseason loss in four seasons to the Patriots.
Dungy, meanwhile, was an island of tranquility.
"That calm look on his face," Manning said after that 38-34 Colts comeback win. "He's calm on the opening kickoff, and he's calm when you're down, 21-3. How many guys can say that? He's just a cool customer."
Dungy left the Colts after 2008, ceding the reins to longtime assistant Jim Caldwell, who was Manning's position coach. Caldwell kept the Colts stampeding, leading them to consecutive division titles and a Super Bowl XLIV appearance before four neck surgeries ended Manning's 2011 season before it began.
The bond between pupil and teacher was profound. Caldwell remains a "great friend" and helped Manning hone his intense eye for the smallest nuances of the game.
"Attention to detail," Manning said. "We had a great routine we did every single day from in the film room and on the field. Attention to detail and taking care of those little things that would take care of the big things. That had a big influence on me."
Caldwell was dismissed after Manning's final season in Indianapolis. He moved on and played four seasons for John Fox, who Manning said reached out to him this week, along with Mora, Dungy and Caldwell.
"John Fox had a great passion for football," Manning said. "You really wanted to play well for him and make that great throw for him or that great tackle. All the players loved playing for him.
"John Fox was a big reason why I came to Denver," Manning added. "We had a great three years together. We had a special team on that Super Bowl team that got beat by a better team."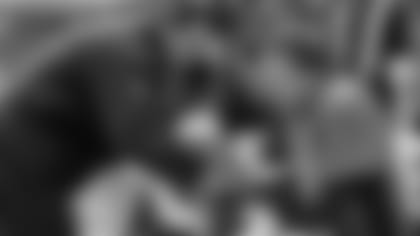 And Fox was followed by Gary Kubiak, with whom Manning meets most days. He didn't want to compare Fox and Kubiak, nor should he.
"I have enjoyed learning from Coach Kubiak this year," Manning said. "Continuity is always a great thing, but when you do have a chance to play for some different coaches I think you want to take advantage and learn from them. I am grateful for all of those people and I have learned something from all of them."
And when Super Bowl 50 kicks off, Manning will have the chance to apply every lesson he's learned from every coach.
No quarterback has ever gone into a Super Bowl with more accumulated wisdom, more career wins and more accomplishments. Sunday, he hopes all of it gives him the insight to guide his team across the finish line with a Lombardi Trophy in hand.
The Broncos took to the practice fields on Thursday to continue Super Bowl 50 preparations. (All photos by Eric Lars Bakke)