SAN JOSE, Calif. --No one but John Elway knows how it feels to exit the NFL with a win as a starting quarterback in a Super Bowl.
With Elway's Broncos back in the Super Bowl for the second time in three years and Peyton Manning's future being perhaps the hottest topic as the week of buildup to Sunday's game commenced in earnest, it is possible that Manning could opt to end his career as Elway did.
Monday night, Manning offered no indication that he had made a decision about his future one way or another.
"I've tried to stay in the moment, tried not to look back," Manning reiterated.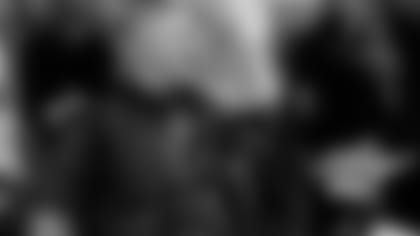 "Stay in the moment. He doesn't need to worry or think about retirement now," Elway said. "He's worked too hard to get where he is now, there's no sense in talking about whether he's going to end it now or not. He has plenty of time in the offseason to reminisce and look back. His key thing is to concentrate and stay in the moment and this is what he worked for."
Elway also praised how Manning handled a difficult season, missing six games because of a torn plantar fascia and then having to come off the bench in the regular-season finale.
"I think he did a great job," Elway said. "When you get a little bit older and you get up there in age, he had some health issues and he worked through those and was able to come back and get us to this point."
But as a fellow quarterback who played on an elite team into the latter stages of his career, Elway is around for counsel if Manning needs it.
"It's up to him," Elway said. "if he comes and wants to talk about it, he's got plenty of resources, too -- his dad [Archie Manning], obviously, and his brother [Giants QB Eli Manning]. So whatever he wants to talk about, if he wants to know what my experience is and what I think, I'll be glad to give him that."
And Elway knows from experience that taking the final step away is hard — even when the body is starting to betray you, as was the case for Elway when he made the emotional announcement that he would "graduate" from his playing career in 1999.
"I was probably 95 percent sure going into [Super Bowl XXXIII] that it was going to be my last game," Elway said. "But I would say whether it's 80 percent or 95 percent, whatever that last step is, however big it is, is always really hard.
"That's the thing that I found, that even though I wanted to, and then once the season got over and i got away from it, then it starts coming back and you want to come back and play."
Between looking back at the end of his career and returning to his alma mater, it seems impossible for any Super Bowl scenario to have more resonance than this one. Elway matriculated at Stanford, quarterbacking the Cardinal from 1979-82.
Monday morning, he found himself back on the same field where he slung passes and often single-handedly kept the team afloat.
"It's great, and that's what makes it so special in the fact that we have a chance to come back here," Elway said. "The Bay Area is such a great spot, and I loved it when I was here, and it's comfortable. It's just an added bonus to be able to come back and play here and be able to practice at Stanford."
Get a look around all the action at Monday's Super Bowl Opening Night.(All photos by Eric Lars Bakke unless otherwise stated)