SANTA CLARA, Calif. --To say that C.J. Anderson was mortified at fumbling in consecutive games to end the regular season is to understate his emotions.
Guilt ... frustration ... anger ... it all bubbled up for Anderson. But one thing that did not take root was doubt. He kept his confidence, and in the days that followed, he and the other running backs put more emphasis on ball security via an array of drills.
It has worked, and after a regular season that was nearly torpedoed by turnovers, the Broncos roll into Super Bowl 50 having just one giveaway in the playoffs to date.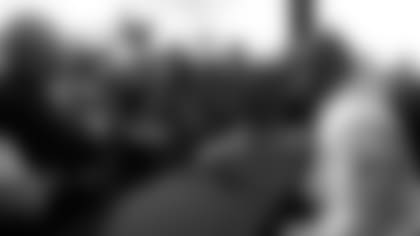 "I think us just focusing over the details. Over that bye week, we talked about how we wanted to be better at ball security, and we got that done," Anderson said.
Peyton Manning has also done his part, throwing no interceptions since his return after tossing a league-high 17 before his torn plantar fascia forced him from the lineup in Week 10.
The difference in Manning now compared to where he was earlier in the season lies in two causes: his health, and adapting to the offense's role in the team.
"As we approach the time before he took the break off with his foot, and I watched him play, he wasn't playing healthy," Head Coach Gary Kubiak said. "I think getting back totally healthy (and) feeling really good physically and mentally has really helped him over the course of this past month.
"I can't speak for him, but I think he would tell you that he also understands the team he is on and the type of defense we've been playing, (and that) when we protect the football, it gives us a very good chance to have some success. So, I think he has bought into that and done a great job."
With a top-ranked defense, the Broncos have been able to emphasize ball security and minimize risk, which helped them to avoid the kind of miscues that led directly to consecutive December losses to Oakland and Pittsburgh. Giveaways led to short fields that set up three touchdowns in those games, and five giveaways in the first two and a half quarters of the Week 17 game against San Diego nearly finished off the Broncos' division hopes for good.
"If we turn the ball over and give them short fields, it puts [the defense] in bad positions," Anderson said. "We all know this works as a team."
But they've had only one turnover since Manning returned -- when Ronnie Hillman did not attempt to field a missed lateral attempt from him, leading to a New England fumble recovery and a short-field touchdown. If not for that, Denver would have surrendered just two touchdowns in two postseason games -- a near-certain equation for success.
"Execution and having fewer mistakes. I said it all playoffs," Anderson said. "We had less mistakes than Pittsburgh, we found a way to win. We had fewer mistakes than New England, we found a way to win."
The Broncos became just the 22nd team in Super Bowl history to make the big game with no more than one turnover in their playoff run. Less than four hours later, the Panthers became the 23rd.
Of the 21 previous teams with one or zero giveaways in their playoff runs to the Super Bowl, 17 won. Three of the teams that lost did so to clubs that also came into the Super Bowl with no more than one giveaway.
But the difference Sunday could rest in the Broncos' ability to hold onto the football under Carolina's pressure.
Carolina defense's has made takeaways its habit. With nine in the postseason, Carolina added to its league-leading figure and now averages 2.67 per game. No one else even averaged two takeaways per game this season.
The Panthers do something similar to the Broncos that allows them to force fumbles, something Anderson has witnessed first-hand from his practice work against Denver's defense.
"It's just about getting that off hand on the ball, making sure you get on the ball," he said. "It's like our defense: Our defense does the same thing. We see it in practice every day. Now we get a chance to do it live full speed."
And now the Broncos must find a way to continue their mistake-free football against an opponent that does nothing better than elicit errors from one team after another.
"Whoever has fewer mistakes Sunday will win this football game," Anderson said.