ENGLEWOOD, Colo. --Despite missing time Sunday because of injuries, left tackle Russell Okung and safety T.J. Ward emerged "fine" from Sunday's game, Head Coach Gary Kubiak announced at his Monday afternoon press conference.
"Hopefully we're okay with both of them. It looks that way today," Kubiak said.
Okung left the 29-17 win over the Bengals late in the first quarter with a lower back injury, but returned after going through stretching work on the sideline. Okung was replaced by Michael Schofield at left tackle for the 13 snaps he missed, with Darrion Weems moving to Schofield's right guard spot for those plays.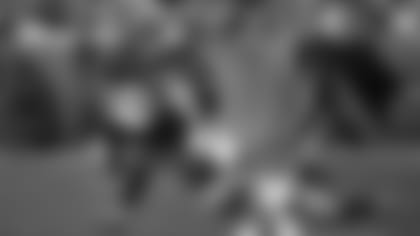 Ward left with a "stinger," Kubiak said, but returned and missed just three of the 67 total snaps for the defense Sunday.
Inside linebacker Brandon Marshall is also fine after being treated on the field during the final defensive series.
"I think he was just tired, very worn out," Kubiak said of Marshall, whose 59 snaps were the most of any Broncos linebacker. "Our secondary and those two [inside linebackers], he and Todd [Davis], were guys that were playing a lot of plays, and we weren't able to rotate much for [them]. But he and Todd played very well."
Offensive lineman Donald Stephenson and tight end Virgil Green remain "day-to-day" after sitting out Sunday's game with calf injuries, Kubiak said, adding that Green remains ahead of Stephenson in the recovery process.
A look at the Broncos' celebration after winning their first road game of the year. (Photos by Eric Bakke unless noted)