For Empower Field at Mile High's general manager, Jay Roberts, the Broncos' first home game of the season felt like the biggest game since the 2015 AFC Championship.
It wasn't just that it was a big game, a "Monday Night Football" clash between the Broncos and the 2019 AFC finalist Titans.
The biggest thing that day was that how the venue handled about 500 guests — friends and family members of Broncos players, coaches and staff members — could decide the venue's feasibility in hosting more people at home games as the Broncos looked to launch a plan to safely host fans amid the COVID-19 pandemic.
"Prepping for our first game with 500 friends and family felt like we were prepping for the AFC Championship Game," Roberts said during a panel as part of a virtual SportTechie conference on Tuesday. "It was insane. My entire staff was just working incredible hours just to prep for 500 people."
In preparation for this moment, stadium staff and teach staff worked much more during the offseason to add new technology and protocols.
"Once we figured out that this was not going to be a short-term, two-week, leave-the-office-and-come-back [thing], we started thinking about, 'How are we going to get back to having events?'" Roberts said. "And just like everybody else in the industry, it was all up in the air. But we spent a lot of time trying to figure out what were ways we could get back to normal. And fairly quickly, Joe Ellis — our president — created a task force responsible for planning a safe reopening for both UCHealth Training Center for the team and safely welcoming back fans to Empower Field. [Vice President of Strategic Initiatives] Brittany Bowlen, our task force lead, has done an amazing job ensuring that when we reopened our facilities, they were safe for our staff, our fans and our players. There was great collaboration with the NFL, the NFLPA, city and state officials, local experts from UCHealth, national experts and our local partners."
The newly implemented tech and processes largely focused on eliminating points of contact where people would normally be in close contact or sharing surfaces, as well as technology that helps with ventilation. All bathrooms became touchless, as toilets, faucets, soap dispensers and paper-towel dispensers were replaced. The stadium added bipolar ionization in the HVAC system to cut the risk of disease transfer and UV-C lights under escalators to reduce or eliminate bacteria on handrails.
"HVAC-related, we now flush out all of our occupied spaces with 100 percent outside air both before and after events," Roberts said. "We added a higher rate of filters. We installed bipolar ionization throughout the stadium, which I had no idea [about] before this. But it does allow for a much cleaner air quality for fans and for staff."
But, really, the groundwork for what allowed Empower Field at Mile High to succeed in a COVID world was laid before this year.
When the Broncos launched a new WiFi network in 2018, the goal was simply to allow more than 76,000 fans to connect to a stronger wireless network and to provide more flexibility with stadium offerings. A year later, the stadium unveiled new concessions stands that aimed to cut down on wait times with new technology that includes self-ordering, self-checkout scanners, a point-of-sale system that added Apple Pay as an option and concessions stands that incorporate the self-ordering or self-checkout scanners to allow grab-and-go options.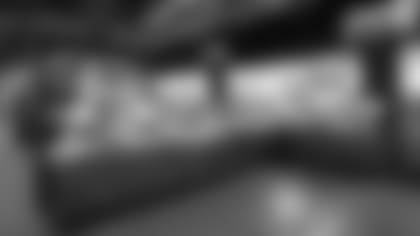 At the time, the goal was simply about efficiency. Every week Roberts would read customer surveys that asked for reductions in concessions lines. These new features would cut wait times so fans could get back to their seats quickly.
Now, those technologies have an additional purpose — they eliminate person-to-person contact or greatly reduce it. Without the foundation laid in 2018, the stadium would have needed to make even more difficult leaps in 2020 to provide a safe way to attend games.
"We weren't thinking about that in 2018 when we were rolling out the WiFi," Senior Vice President of Information Technology Russ Trainor said later during the conference. "We were thinking about more of the outside connectivity for the people coming up with their phones and connecting their digital tickets. But it really has helped the overall connectivity piece, just to get the workers and the fans inside safely. And then it also drives some of those other engagement pieces. … We're cashless now throughout the venue. Digital parking passes, we didn't used to have digital parking passes. Now we're digital … from the moment they enter the parking lot, through the gates and to their seats."
The development is continuing, too. Roberts said Tuesday that a Drink MKT store at the stadium will now operate with checkout-less technology from Zippin. Krishna Motukuri, Zippin's CEO and co-founder, explained the process on Tuesday during the panel with Roberts.
"If you walk up to the Drink MKT at Section 103 in the stadium, you can actually enter the store by checking in at the entrance," Motukuri said. "You can either use the mobile app or you can simply just put your credit card in. So you check in at the entrance and provide your payment up front. And then the gates open and you walk into the store. Once you're in the store, you essentially just shop naturally. You grab whatever you want — pick up a beer, pick up a soda or whatever — and just exit the store. That's it. And when you exit the store, you just have to simply walk out. There's no line to wait anywhere, and all you have to do is just, if you picked up an alcoholic beverage, make sure you show your valid ID. And that's it, you're done."
Some of these features are likely to remain even after the pandemic subsides, Roberts and Trainor said.
"I think more efficiency and better experiential things are coming down the road," Trainor said. "COVID accelerated it, [and] those things will stick. We'll still try new stuff. We'll try some new stuff and some things will work, some things won't. But this accelerated technology roadmap was a good thing for us, because there will be some things that definitely hang on help things in the future."