As the Broncos' 2020 season approaches, we've spent recent weeks looking at which Broncos players could play major roles this year.
Over the last few weeks, we've polled our DenverBroncos.com reporters and members of the local media to predict which members of the team would win a series of awards.
We have just one award left to give: Most Valuable Player.
And while all of our previous votes identified a clear winner, our voters were evenly split on who will be the Broncos' MVP. Miller and Drew Lock received each received nine votes, which left them as co-MVPs.
Read on to hear from our panel of media members.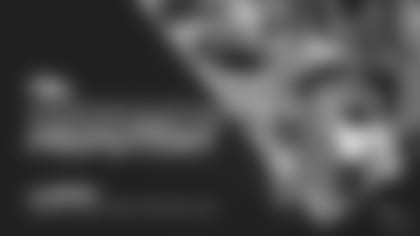 DENVERBRONCOS.COM STAFF PICKS FOR THE BRONCOS' MOST VALUABLE PLAYER
(Individuals polled: Matt Boyer, Aric DiLalla, Sydney Jones, Phil Milani, Alexis Perry, Ben Swanson)
OLB Von Miller: 4 votes
Boyer: "After battling COVID-19, I think Von's motivation and love for the game will be deeper than ever. And on a team full of young players, his veteran leadership will be invaluable. He's never won NFL Defensive Player of the Year, but in a year when COVID-19 robbed us of so much, Von sacking both the virus and quarterbacks would solidify a Hall of Fame legacy."
Jones: "This one was a no-brainer. We're talking about a guy that has had 32.5 sacks and 151 total tackles since 2017. Given that Bradley Chubb will be back, plus the fact that the Broncos traded for Jurrell Casey and A.J. Bouye, opposing offenses will have a lot more to worry about than just Von. It also seems that Von is motivated as ever this season and I think it's fair to say he could be looking at another season where he has 10-plus sacks and 50-plus tackles."
Milani: "The legendary sack master returns to form in 2020! After testing positive for COVID-19 this offseason, Miller will have a new lease on life. And I think that means he will be more focused on his game than ever before. Whoa, if true! With the return of Bradley Chubb and the addition of Jurrell Casey to the defensive line, Miller will be able to rush the passer one-on-one more often next year. Think 2015 Von Miller. Plus, I believe the Broncos will be playing with the lead quite a bit in 2020, so Miller better get his dancing shoes on because I actually see him leading the league in sacks."
Swanson: "Right now, when I look at this team's defense on paper, I see a recipe for Von Miller to return to game-breaking form. With Bradley Chubb back and healthy and Jurrell Casey pushing the inside of the pocket, Miller should face fewer double-teams, which would help him drive the Broncos to be one of the top defensive teams in the NFL. In turn, I expect them to be among the league leaders in forcing turnovers, which should greatly help the offense, too."
QB Drew Lock: 2 votes
DiLalla: "Lock earns my vote here for a couple of reasons. First, I think he's poised to take a big step in his second season and identify himself as the team's quarterback of the future. If he can top 3,800 yards and 25 touchdowns while leading the team to nine or 10 wins, that's enough for me to see that he's taken the next step in his development. But here's the real reason I've chosen him as my MVP: the drop-off between the first and second options at the position. If Bradley Chubb misses a few games, this team should be able to survive. Same goes for Von Miller or Justin Simmons or Courtland Sutton or many of the other players on the roster. Without Lock, though, I think sustained success is too big of an ask."
Perry: "Heading into his first season as the starting quarterback, I have no doubt Drew Lock is the quarterback of now and the future for the Denver Broncos. While his arsenal is overflowing with weapons thanks to the work John Elway and Co. did throughout this offseason, the buy-in he has received from his teammates after just five games in 2019 is what makes me believe Lock will have a lengthy career here in the Mile High City. If you add up his talent, mindset, swagger and the support he has from players on both sides of the ball, Drew Lock has all the makings of an MVP. I truly believe he's going to light up the league in 2020."
MEDIA PICKS FOR THE BRONCOS' MOST VALUABLE PLAYER
(Individuals polled: Nicki Jhabvala, The Athletic; Lindsay Jones, The Athletic; Ryan Koenigsberg, DNVR; Brandon Krisztal, KOA; Mike Klis, KUSA; Jeff Legwold, ESPN senior writer; Steve Levy, ESPN/KUSA; Dave Logan, KOA News Radio; Ryan O'Halloran, Denver Post; James Palmer, NFL Network; Troy Renck, KMGH; Peter Schrager, NFL Network; Michael Spencer, CBS Denver)
QB Drew Lock: 7 votes
Jhabvala: "He played only five NFL games and practiced all of seven weeks last year, but John Elway saw enough in Lock to want to build around him. With a system geared more toward his strengths, an improved line and an arsenal of offensive weapons, Lock has the support system the previous six starting QBs in Denver never got."
Jones: "Drew Lock is the only option because (unfortunately) only QBs win MVP anymore. (So I guess what I'm saying is I don't think Melvin Gordon will rush for 2K yards)."
Klis: "On good teams, the QB is almost always the MVP. So if the Broncos are going to be good ..."
Koenigsberg: "When you have a good player at the most valuable position in sports, he's usually your MVP, and the Broncos finally have that. If Lock is the offensive MVP, it means things went according to plan in Denver."
Krisztal: "There's a reason in the last 20 years, there's been 16 quarterbacks to win the Most Valuable Player, and that's because, well, they're the most valuable player on just about every team. In fact, most people will tell you that a QB is the most valuable position in all of sports, and everything is lining up for Drew Lock to ascend to that mantle with the Broncos. A player typically makes a big, if not their biggest, jump from Year 1 to Year 2, and if that holds true for Lock, he'll have folks smiling all across every square mile of Broncos Country. With the weapons John Elway has given the young signal caller, and the new offensive coordinator, it won't be out of the realm of possibility that Lock isn't just the MVP of his team, but perhaps in the conversation for the award for the entire NFL. Three years ago, Eagles QB Carson Wentz was on his way to nabbing those honors in his second season; then in 2018, Patrick Mahomes was named MVP in Year 2; and Lamar Jackson last year in his second campaign. So, you may want to get your Drew Lock jersey now, because they'll be the most popular piece of clothing in Denver by the end of the football season."
Logan: "If the Broncos are a playoff caliber team in 2020, they'll need their young QB to be the team leader in this category."
Spencer: "This may seem like the easy answer, but if the Broncos are going to have success this season, it will be because of Lock. The offense seems primed to take a step forward and Lock will be the catalyst for their success. He's won over his teammates with his moxie and drive, and the Broncos' success will be determined by how he plays in his second season."
OLB Von Miller: 5 votes
Legwold: "Know somebody, anybody, on offense will be the most popular choice, but addition of Jurrell Casey and return of Bradley Chubb will have an enormous impact on how many fewer times offenses can gang up on Miller."
Levy: "The leader senses the window beginning to close and he digs down deep for one more great season. Energized by a young, more explosive offense, Miller realizes the pressure is not all on his unit anymore and he's not on the field the majority of the game."
Renck: "For the Broncos to return to the playoffs, their best player must be their best player. He needs an All-Pro season. It's that simple."
James Palmer and Peter Schrager also selected Miller for the award.
WR Courtland Sutton: 1 vote
O'Halloran: "Last year's breakout player (72 catches-1,112 yards-six touchdowns) will become this year's MVP. Another year of going against the top cornerbacks, working with receivers coach Zach Azzanni and catching passes from Drew Lock combined with the arrival of Jerry Jeudy will see Sutton reach 1,300 yards and 11 touchdowns."