As the Broncos' 2020 season approaches, we'll spend the next few weeks looking at which Broncos players could play major roles this year.
Over the next several weeks, we'll poll our DenverBroncos.com reporters and members of the local media to predict which members of the team would win a series of awards.
We'll pick an MVP, Offensive Player of the Year, Defensive Player of the Year, Offensive Rookie of the Year, Defensive Rookie of the Year, Breakout Player of the Year and best veteran offseason addition.
We start, though, with our picks for the Comeback Player of the Year.
This award is traditionally given to a player returning from injury, which puts outside linebacker Bradley Chubb, cornerback Bryce Callahan and offensive tackle Ja'Wuan James in the spotlight. As you'll see, though, a couple other players also received votes.
Chubb, though, was the consensus favorite for the award.
DENVERBRONCOS.COM STAFF PICKS FOR THE BRONCOS' COMEBACK PLAYER OF THE YEAR
(Individuals polled: Matt Boyer, Aric DiLalla, Sydney Jones, Phil Milani, Alexis Perry, Ben Swanson)
Bradley Chubb: 5 votes
Boyer: "After breaking the Broncos' rookie sack record in 2018, it was gut-wrenching to watch Chubb go down with an injury early last year. If he can return to form and build off what he started, his name will be in the conversation for the NFL's Comeback Player of the Year award, let alone the comeback king of the Denver Broncos.
DiLalla:"I may not be original in my choice, but Chubb seems like the clear-cut answer here. He led all rookies in sacks in 2018 and broke the franchise's rookie sack record with 12 quarterback takedowns that season. I expected him to be the Broncos' best defender in 2019 before he got hurt — and it wouldn't surprise me if he returns to claim that title this season."
Jones: "I think Chubb is going to come back and be a monster this season, despite a season-ending ACL injury last year. He had 12 sacks during his rookie year in 2018, and with the addition of Jurrell Casey this offseason, Chubb will be able to attack quarterbacks with less double teams."
Milani: "This is a no-brainer for me. Good thing considering my takes! Hey-oh! Am I right? Last season was such a disappointment for Chubb, whose name had been mentioned as a possible sleeper pick for Defensive Player of the Year before he tore his ACL. Since then, he's been grinding and rehabbing to ensure that he will be ready to hit the field on time for the 2020 campaign. I bet he has a chip on his shoulder and is ready to live up to the potential that made him the fifth-overall pick in 2018."
Swanson: "When Von Miller went down with a torn ACL in 2013, he returned the following season and had 14 sacks while DeMarcus Ware had 10. With the roles reversed, I think Chubb has the temperament to have a similar kind of rebound year after his knee injury, which would help Miller be more effective after a dip in production in 2019. And with a top-tier pass rush, the Broncos' defense will be all the more fearsome."
A.J. Bouye: 1 vote
Perry: "Although he wasn't with the Broncos last season, I believe A.J. Bouye is the one primed for a comeback season. In 2019, Bouye led the league in yards allowed (806) as the No. 1 corner in Jacksonville, but Coach Fangio's system will give Bouye the opportunity to bounce back and regain his confidence. ... I expect Bouye to make a lot of plays this year, including a handful of interceptions."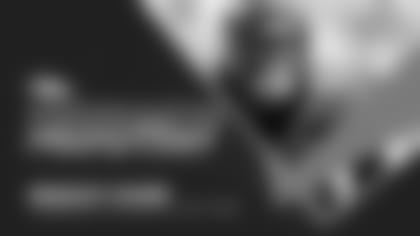 MEDIA PICKS FOR THE BRONCOS' COMEBACK PLAYER OF THE YEAR
(Individuals polled: Nick Griffith, KDVR; Nicki Jhabvala, The Athletic; Lindsay Jones, The Athletic; Ryan Koenigsberg, DNVR; Mike Klis, KUSA; Jeff Legwold, ESPN senior writer; Steve Levy, ESPN/KUSA; Dave Logan, KOA News Radio; Ryan O'Halloran, Denver Post; James Palmer, NFL Network; Troy Renck, KMGH; Peter Schrager, NFL Network; Michael Spencer, CBS Denver)
Bradley Chubb: 10 votes
Griffith: "I did briefly consider Ja'Wuan James or Bryce Callahan for this selection but let's be honest, Chubb is just too dominant when he's healthy. Word is that Chubb has destroyed his rehab efforts coming back from the ACL surgery and is expected to be 100 percent going into his third season in the NFL. With added beef added up front on the interior (Jurrell Casey) and Von Miller still lined up on the opposite side, I fully expect Chubb to eclipse his sensational rookie season and post 70-plus tackles and 14.5 sacks which should land him this 'comeback' award going away."
Jones: "He would have been my pick for breakout player last year, and I think we'll get to see that this year now that he's back from the ACL. He's the perfect pass rusher for a Vic Fangio defense and could have a monster year."
Koenigsberg: "After tearing his ACL early on last season, if Chubb comes back and even plays at the level he played at during his rookie season — when he flirted with the all-time rookie sack record — he will be a lock to earn this honor."
Klis: "Ja'Wuan James and Bryce Callahan are also qualified for this honor. The Broncos need this to be a tight, three-man race."
Legwold: "There is no reason he doesn't return from last season's torn ACL to flourish in a defense that should rush with far more consistency than last season."
Levy: "Injuries got the best of him last season. He flips the script this season and lives up to the hype and goes off on opposing quarterbacks."
Logan: "Easy pick if he stays healthy."
O'Halloran: "It speaks to Chubb's potential impact that I thought about naming him MVP or Defensive Player of the Year. Last year's Week 4 loss to Jacksonville was a double gut-punch -- it dropped the Broncos to 0-4 and they lost Chubb, their best overall player, to an ACL injury. Look for him to match his 12-sack rookie season."
Renck: "His knee healthy, Chubb will rebound with double-digit sacks."
James Palmer also selected Bradley Chubb for the award.
Melvin Gordon III: 2 votes
Jhabvala: "It remains to be seen how [Offensive Coordinator Pat] Shurmur's divvies the load between Gordon and Phillip Lindsay. But after losing his starting job with the Chargers last season, you know Gordon is champing at the bit to prove himself all over again. Health pending, another 1,000-yard rushing season could be on the horizon."
Peter Schrager also selected Melvin Gordon for the award.
Bryce Callahan: 1 vote
Spencer: "This was an easy one for me. The Broncos need Callahan to come back off his injury and have a successful season. If he's healthy, he should have no problem coming in and having a good year for the Broncos, especially given his knowledge of Vic Fangio's defense."