SANTA CLARA, Calif. --The everlasting gift Peyton Manning has provided his teammates has been his example.
His leadership, resilience and adaptability have helped the Broncos to 49 wins as a starter, four division titles and first-round byes in each of his seasons with the team.
But one teammate after another over the years has raved about his study habits and how they compelled each of them to pore over the playbook a little longer, watch a little more film or take that extra time to be on point.
When Emmanuel Sanders came to Denver, his study habits weren't anything like they are now.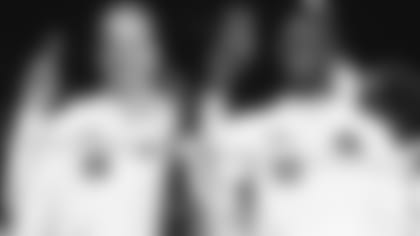 "Before I got here, I never really took notes," Sanders said. "But Peyton has made me a better player because I sit right behind him, and I used to watch him, and he would take notes about everything that the coach said.
"So I'm like, 'I'm going to pull out my notebook.'"
And that was just the beginning for Sanders, who got the full immersion into all things Manning during the 2014 training camp, his first as a Bronco.
"He invited me into his room because he wanted to teach me the playbook," Sanders said. "And I saw how he had his whole room set up, of how most hotel rooms have desks, and he would go and put his playbook on the desk.
"So I started putting my playbook on the desk, and I started having success because I started studying."
It would be hard to argue with the results; Sanders advanced from a No. 3 option in Pittsburgh to a co-No. 1 receiver with Demaryius Thomas in Denver, posting back-to-back seasons with at least 75 receptions and 1,100 yards.
Sanders' play isn't solely a result of Manning being the triggerman, either. During the five and a half games Sanders played with Brock Osweiler, he caught 27 passes for 459 yards and two touchdowns. The Osweiler-to-Sanders combination yielded similar per-game numbers to his 2015 work with Manning.
"If you apply yourself to anything, you're going to get great results out of it, and that's one thing that I learned from [Manning], just to apply yourself, take the game seriously [and] know your job, because it's more than physical. Peyton showed you [that]," Sanders said.
"I mean, he's the oldest starting quarterback in the National Football League. Some of that is physical, but a majority of it is mental. His mental edge over the competition is great."
Sanders' contract expires after next season, but given the depth of his accomplishments and the family atmosphere around the team that he has come to love, he hopes to keep on applying Manning's lessons in orange and blue.
"I really want to, but sometimes I know how the business side goes," he said.
That will take care of itself, because Sanders has meshed his natural talent with a studious work ethic that has brought him into the sport's elite.