SANTA CLARA, Calif. --It's not that Carolina's All-Pro cornerback, Josh Norman, doesn't concern Emmanuel Sanders. Far from it, actually.
But if Sanders focuses too much on the potential matchups he faces with Norman and Robert McClain and Cortland Finnegan, then he might lose sight of what he is, and what got him to his second consecutive 1,000-yard season.
"I'm going to answer it honestly: I watched film on Norman; I haven't really watched Finnegan or [any] of those guys," he said. "I'm not saying that I don't have to watch film on them, but I don't watch film on [anybody].
"Whatever [Wide Receivers Coach] Tyke Tolbert allows us to watch, that's what I watch, but I don't concern myself about cornerbacks. I stay true to my technique. I worry about me."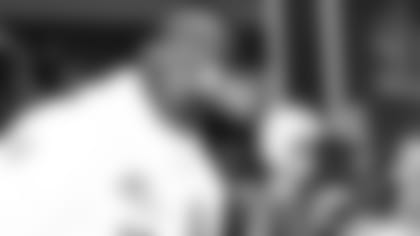 There hasn't been much to worry about for Sanders this year. Despite the team's overall offensive issues and an injury-spurred midseason change from Peyton Manning to Brock Osweiler, he averaged 4.8 receptions for 71.2 yards per game, and in the playoffs is the Broncos' leader in receptions and receiving yardage.
Even when he faces Norman, he expects to make plays.
"I feel like if I stay true to my technique, there's no cornerback in the National Football League that can stop me," Sanders said.
One reason Norman succeeds against other receivers is because he tries to force mismatches in his favor that are as much emotional as physical.
He is one of the league's best at getting into an opposing wide receiver's head with his chatter, as evidenced by the tussles between himself and Giants wide receiver Odell Beckham Jr. in Week 15. But he won't find willing sparring partners in the Broncos' receivers.
"He likes to talk. Me and Demaryius [Thomas], we don't talk," Sanders said. "We just let our play handle that."
Added Thomas: "I've seen him on film talking. But if he does, it's not going to bother me. I'm going to be ready for it."
The Panthers usually do not have Norman shadowing one specific receiver, so Sanders, Thomas, Jordan Norwood and every other receiver know at some point, Norman will be opposite them.
"It's not going to be easy," Demaryius Thomas said. "Of course he's a great player. It's going out every play and trying to see what I can do different.
"I'm not going to say I'm going to win all of them, but I think there's some areas where I can make some plays."
And as is often the case, a matchup like this is when the daily work against Pro Bowlers Aqib Talib and Chris Harris Jr. pays off. There is little that Norman can throw at Sanders, Thomas and the Broncos' other wide receivers that they haven't seen in practice.
"Oh, man, it's helped a lot," Sanders said. "Talib didn't make All-Pro, but he should have made All-Pro. That's two All-Pro cornerbacks that I face every single day at practice, and it definitely brings the best out of me, because you go to the right, you've got Talib, and you go to the left, you've got Chris.
"You've definitely got to get your mind right every day."
That won't make Sunday's work against Norman easy, but it gives them a deeper reservoir of confidence from which to draw.