SAN JOSE, Calif. -- **Like his father, Wade Phillips is a defensive mastermind who is quick with a quip and has a reservoir of profound wisdom in his brain.
It's one of the reasons he communicates so well with players that are not even half his age. His sentiments are at once sage and playful, simple and complex. Like his late father, former Oilers and Saints coach Bum Phillips, his words will make you chuckle, but sometimes make you think.
It would seem that Twitter is made for him. On his @sonofbum handle, he has tweaked opponents with a pun, responded to a former -- and, as it turned out, future -- player in Shiloh Keo who was looking for a chance, and reflected on memories that got him to his spot.
Phillips' tweets are 100 percent pure Wade, pure Texas, pure wit and wordplay. The economy of crafting a memorable missive in 140 characters or fewer brings out the best in him.
Sometimes, as was the case Sunday, it doesn't even take a word:
That elicited a question that nearly crossed the line of tactfulness -- a query him being nimble enough with technology to find the image, capture it and share it with the world. He's tech-savvy --
"For 68," he said, finishing the thought for a reporter. "Yeah, I told them, 'They keep putting 6-8, and I'm only six-foot.' They put 6-8 behind my name every time. But it's not that hard. My little grandkids can do it."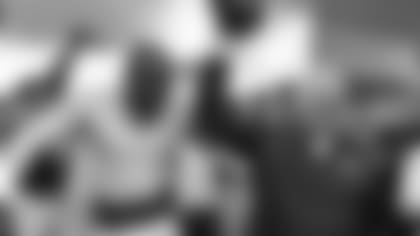 But his grandchildren can't coordinate the best defense in football, a defense that has the chance to go down as one of the best in the sport's history, to join such legendary defenses as the 1985 Bears, the 2000 Ravens, the 2002 Buccaneers and the 2013 Seahawks.
Entering that pantheon only happens if the Broncos win Sunday, which is why he knows his defense's place will be established by whether it can shut down Cam Newton and push the Broncos to a victory.
"I think this game would determine that. To hold Pittsburgh to 16 points and New England to 18, if we play a tremendous game this game, I think you've got to rate them pretty high," he said.
"It depends on how we play, obviously," he added. "You don't hardly ever lead the league in almost every category, and even in rushing we were third, but we gave up the least yards per carry in the league, we were 3.3. We almost literally led the league in every important category."
It's hard to believe that the craftsman of this defense was nearly set to sit out a second consecutive year before the Broncos hired him to be their defensive coordinator just over a year ago.
"I'm lucky to be where I am in some ways. I think I've earned a lot of it, but you still have to be lucky. Just look how this year turned out -- I didn't have a job [during the 2014 season]. I thought I was going to get one, guys that thought they were going to get a job didn't get it.
"This year, pretty much the same thing was happening and I did get the interview at Washington, didn't get that job. And I was second place at Denver, but it worked out great for me. Sometimes you're at the right place at the right time."
THE LAST TIME PHILLIPS **was creating a Super Bowl game plan, Milli Vanilli had a song in the Top 40, Margaret Thatcher still resided at 10 Downing Street and the Broncos had a good, but not great, defense that was third in yardage allowed per play and per pass play and ninth in yardage per carry allowed.
They went against a buzzsaw in scarlet and gold, and it was no contest: 27-3 by halftime and 55-10 by the end of the devastation. The 49ers had their fourth Super Bowl win; the Broncos their fourth Super Bowl loss.
Since then, the only constant in Phillips' football life has been launching one defense after another to the league's top five in myriad statistical rankings, whether he was a defensive coordinator or a head coach. He's served as head coach for three teams; he took them all to the postseason at least as often as not -- and in three years in Buffalo, went to the postseason twice and never had a losing season. In his last previous stop, Houston, his defense dominated and helped power the Texans to consecutive AFC South titles.
And all that wasn't considered good enough. He sat out 2014 and if Gary Kubiak had not become Denver's head coach, might have been out this season, too.
But Phillips learned long ago that you can do your job exceptionally well and still be unemployed.
It was New Year's Eve, 1980. Oilers owner Bud Adams, stung by a wild-card loss at Oakland that was their third consecutive playoff defeat, fired Bum Phillips, the best coach he ever had -- and would ever have.
That day -- still called the "New Year's Eve Massacre" by some old Oilers fans -- sent the franchise into a spiral that lasted six years, although they didn't know it then. Bum Phillips was soon off to New Orleans, and Wade followed him as defensive coordinator, since Houston's coordinator, Ed Biles, had stepped into the head coach's office, to be fired during the 1983 season.
"We went to two AFC Championship games (with Houston), lost to Pittsburgh, then we lost to Oakland in the playoffs and we got fired," he said. "So that's when I realized, you've got to coach as good as you can coach. Somebody else makes the decision of whether you're fired or not fired."
Houston was the first of nine cities in which Phillips has worked. The Broncos are the only team for which he's stopped twice. He has been a defensive coordinator with seven teams, an interim head coach with two and a full-time head coach with the Broncos, Bills and Cowboys. In nine seasons as a head coach, he directed teams to the playoffs five times.
Some of that is because he's a brilliant tactician. His defense confused Patriots quarterback Tom Brady by rushing only three men 14 times on Jan. 25.
But not every coach can come up with a game plan and then get his players to run it. That's what Phillips does better than almost anyone; he conveys the information in his usual approachable, honest manner -- just like his father did so long ago.
Wade Phillips doesn't have a writer for his tweets; he chuckles at the notion. Bum Phillips didn't have anyone writing his quips, either; he just knew how to naturally communicate.
Get a look around all the action at Monday's Super Bowl Opening Night.(All photos by Eric Lars Bakke unless otherwise stated)