When I was 9-years old, I was diagnosed with Medulloblastoma, which is a form of brain cancer.  During my treatment at the Children's Hospital, I liked to watch football games so when I was asked to go to Dove Valley to interview a Broncos player, it was an offer that made me the happiest I have ever been. I could not stop smiling and was so anxious for the day to come.  My experience with the Denver Broncos was the best experience of my life. It was a once-in-a-lifetime opportunity.
We started the day with a tour of the training facility. We got to see the training rooms for each group and they had leather seats with the Broncos logo on them.  The Broncos have a huge cafeteria with a chef for the players and the staff.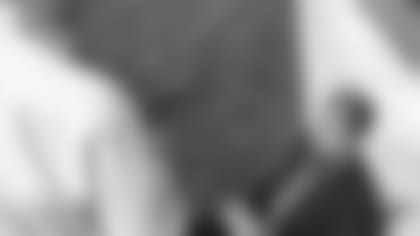 Then, we went to see the Broncos train on the field. When we went outside, I saw Mr. John Elway walking our way and I was so excited! I met Mr. Elway (#7) who played quarterback for the Broncos for 16 years. He took a picture with me, which I will treasure. He is the King of football.
I also met Mr. Chris Harris Jr. who took time to let me interview him. I asked Chris a few questions. 
One of the questions I asked Mr. Harris was how has being a football player affected his life physically, mentally, and socially. He said it helped him stay in shape and stay ahead, and he was able to prepare well.
I then asked if he wanted to be a football player at my age (11), and he said he wanted to be a basketball player. That was his first choice. His mom inspired him to be a football player instead. I liked that answer, because my mom inspires me to try my hardest. If he could have any job in the world other than a football player, he wanted to be a pro golfer.
I also asked what he would pick to be a life lesson for kids in this generation. Mr. Harris said you have to keep working toward your goal, even if you don't get it right the first time, and to not give up. The best advice he was given was if you want a marriage to work out, it is up to you and you have to work at it.  I also asked him what the farthest pass he has thrown was and he said 50 yards.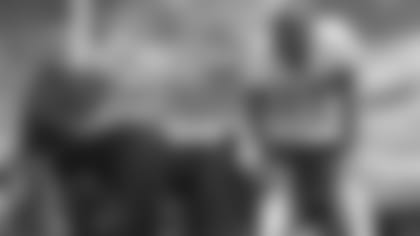 I love cars so I asked him what his dream car is, and he said it was a Rolls Royce. My favorite car is a Lamborghini, which I saw in the parking lot there. It was so cool! Mr. Harris's top three motivations are his family, being the best at what he does, and God.
I also agree, because those are what motivate me and are what helped me get through brain cancer. His future goals after football are to be a sportscaster, or a football coach.
I asked him what he does to maintain his attitude through tough times, and he said call his dad or past coaches.
It was so awesome speaking with Chris Harris Jr. and meeting John Elway. I will cherish this day forever.
I would like to thank the Denver Broncos and Children's Hospital for allowing me this opportunity. After this meeting it made me look forward to their next game, and my biggest wish is for the Broncos to make it all the way to the Super Bowl this year and to go to a Broncos game in person to see Mr. Chris Harris and all of the other players in action.