I feel very honored to have interviewed the hero of the biggest game of the season, C.J. Anderson. He is a great weapon in Coach Gary Kubiak's offense. After his heroic performance against the New England Patriots, he was named AFC player of the week. Most Broncos fans know about his football skills, but there is a lot more to him than just being a great football player.
Anderson grew up in Vallejo, California. His favorite color is purple because he likes how the color can be light or dark. He was a football fan early in life but his favorite team was not the Denver Broncos growing up; instead he liked a minor league team out of Oakland.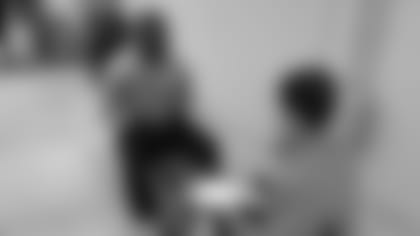 I also learned some of his favorite things outside of football. Anderson said his favorite restaurant is Taco Bell and he likes to order three crunchy tacos. He also likes to eat brownie sundaes, which must be how he keeps in such good shape.
When it comes to music, he likes rap. He likes to dance in the huddles but his teammates think it's best for him not to. His favorite television show is Sonic the Hedgehog and his favorite movie is The Matrix. It's a good thing he doesn't move in slow motion out on the football field. 
I asked him what he would like to be doing if he wasn't playing football. He said he'd be playing basketball because he doesn't like the cold and would love to play an indoor sport. But it didn't seem to bother him much when he was making the winning touchdown in the snow against the Patriots.
Anderson said he loves playing for the Broncos because of the camaraderie of the team.  Since Christmas is coming soon, I asked him what he wanted for a present and he said he wanted a Super Bowl ring.
Anderson is a very nice guy. I learned a lot of things that I didn't know about him like the fact that he has his Master's degree and would like to eventually get his PhD. He has also done a lot of traveling to places like Hawaii and the Virgin Islands. You may see him driving around town in his Volkswagen.
I really enjoyed this interview and want to say thank you to C.J. Anderson for allowing me to get to know him better.