Junior Reporter Daniel Hailpern of Children's Hospital Colorado visited the UCHTC and interviewed WR Demaryius Thomas last week. At Children's Hospital he was named the Ambassador for the Denver Broncos and is affectionately known as the patient who created the "Let it Go" parody, "Bronco's Go." This is his story.**
ENGLEWOOD, Colo. – For a kid who has already been spoiled with meeting Broncos of the past and present, and has received more football memorabilia than Canton Ohio, I honestly didn't think my Broncos experience get any better. But it did.
It all started a long time ago, September 12th, 2014, exactly one-year from me writing this. On that day I decided to enter the Ryan Seacrest Studio at Children's Hospital Colorado. It was the first time I hosted my own radio show, which I continued to host twice a week during the Broncos football season.
I remember being nervous but after a few weeks it became natural. I came to know the studio from creating a Broncos song parody a few weeks earlier entitled "Broncos Go." The hospital recognized me for the song and my radio show. So when Children's Hospital Colorado put pen to paper and signed a contract with the Broncos, I was the first person they called.
My name is Daniel Hailpern and I am the Official Children's Colorado Denver Broncos Ambassador. So far, I have met several Broncos players including linebacker Brandon Marshall, safety David Bruton Jr., defensive lineman Derek Wolfe and a few others.
My thoughts before my visit to the UCHealth Center were, "I've already met Broncos players, how big of a deal could this be?" Well, boy was I wrong! Upon arriving at the Broncos training facility I was shocked to see how hot it was outside. All I could think was, "Please let there be air conditioning!"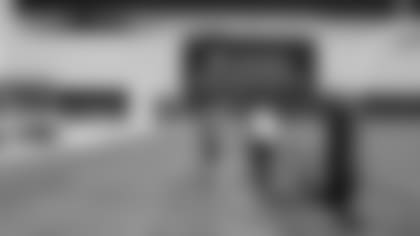 I headed to the main lobby along with Mrs. Christy Dobson, the Director of Corporate and Community Relations at Children's, and my Mom. When we arrived, I felt not only the crisp air conditioning, but also the sweet smell of football heaven. In the lobby, there sat every single trophy the Broncos had ever won. Not the replicas or duplicates, but the actual trophies that were handed to them after the game. I'd previously held the Lombardi trophies at the Shanahan's restaurant., but those were replicas. These were the real deal! This day had already exceeded all my expectations and slapped my preconceived notion of my, "been there done that," attitude right in the face.
I sat down in the waiting area and wrote down a few questions I thought to ask my mystery Broncos player that I would later interview. Our tour guides arrived and gave me some wonderful memorabilia including, my favorite, a textbook sized media guide. It included every single Broncos stat ever recorded.
They began to show us the entire facility and I mean everything. We went from the meeting rooms to the visiting teams' coach's locker room bathrooms! At all points of this tour there was a gigantic smile on my face.
Our first stop was the quarterbacks meeting room, where the QB's meet with the coaches. It was unbelievably small, especially since a six-foot-eight Brock Oswelier has to fit in that room every single day. Next, we went to the team meeting room, which was much larger, and more like what I imagined.
After that we headed outside, out of the chilly air conditioning and into the blazing heat. We saw the practice fields and were told about all the new features of the facility. Heading to the indoor training facility, we walked past Emanuel Sanders sitting on a bench talking to someone. Without any hesitation, he stopped his conversation to say hi to me! Imagine me, still a little shy and concerned about how nice all the players would be, having a player go out of his way just to acknowledge me. My day already had been made and had exceeded all I thought it would be. That just took it to a different level.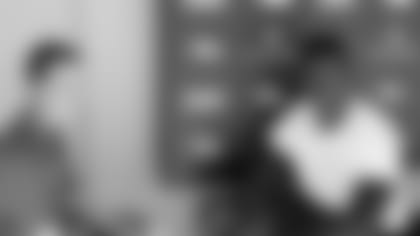 At this point I was scared any more surprises would make me faint. I quickly said "hi" in response and proceeded along to a podium. There, a group of media was waiting to interview Demaryius Thomas, but he hadn't arrived, so we moved on.
We walked past the player's parking lot where every single exotic car known to man was. I'm not a big car freak but I was still pretty amazed. We headed along to the indoor field where all the ring of fame banners soared.
I was in awe. Some of the best players in NFL history were metaphorically right in front of me. The coolest part of the field was that I was nearly all alone on the field, by myself, in complete silence, just taking in the greatest experience of my life.
We then headed to the visiting locker room where visiting teams are assigned when the Broncos have joint practices. The 49ers were there the week before, but for the most part the locker room goes unused for most of the year. All that was left was a lone Gatorade bottle that had not been thrown out the week before.
We headed back to where all the reporters were before to see that they were now interviewing Demaryius. They were all engaging him in discussion and filming him as I watched his press conference from the back of the crowd. It was a lot different than watching on TV because it was more natural.
After they were finished, I remained outside waiting for my Broncos player to come for my interview. Finally, none other than Demaryius Thomas himself came out to have an interview with me. I was so shocked that such a big name player would take time out of his day to sit and talk with me!
After some handshakes and introductions we started the interview. We talked about season expectations, transitioning to a new system, wide receiver competitions, the Broncos future at the quarterback position, fantasy football and of course, his Super Bowl prediction.
For expectations, DT wants to win and get to the Super Bowl. No shocker there. On a personal level, he wants to improve himself and have a great year. My favorite question I asked him was about transitioning, not just to a new system, but also from college to the professional level. I drew the comparison between the new offense and his college offense. In both systems, running the ball is favored. He did see the comparison but hoped it would not be anything like when he was at Georgia Tech where he had fewer than 50 receptions in his breakout year (a 75% to 25% running to passing ratio).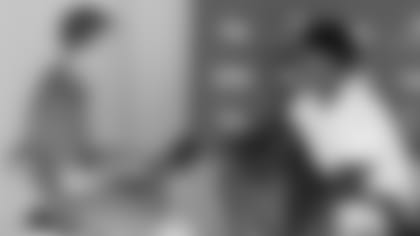 He told me it wasn't too big of a deal transitioning to the new system and that it was much easier than coming out of college and into the NFL. After mentioning that there would be fewer passes to go around, I asked Demaryius who was going to get more catches this year, him or Emanuel Sanders. He responded immediately with no doubt in his mind that it would be him.
Next, we talked hypotheticals: about Peyton leaving after the season and how next season would be with Brock Oswelier at the helm. DT was very excited about the chance to work with Brock and left me with a lot of hope for life after Peyton. We then discussed, my favorite topic, fantasy football. I am an avid fantasy player so to ask an actual football player that is on someone's team in every league this year his opinions, meant everything to me. Sadly he had never played fantasy football before!
For never playing, he still seemed very unnerved at the fact that I had not drafted him this year. I reassured him that he was gone before I had the chance to draft him.
Finally, I asked for his Super Bowl prediction. When I asked who would be facing the Broncos in Super Bowl 50, he mentioned that the Falcons looked good as well as the Packers and the Seahawks. He did, however, say that before he looked into whom they might end up playing he wanted to make sure that the Broncos would be there to represent the AFC.
After I was told that DT only had time for two more questions, I managed to fit in about five or six more, just like any good reporter would. Before Demaryius left, he signed a football and a hat for me. He then awarded me with Broncos tickets to the season opener.
Not only did these tickets include pregame field passes, but also game time sideline passes for the first quarter. I was also told that I would be the Broncos Country Hero of the week. I was so honored to be given this designation and especially to be given it by DT! After a few pictures and some more handshakes I handed Demaryius my Children's Hospital business card and asked him if he would want to be a guest on my radio show sometime. We parted ways and I began to head back to the lobby.
The best part about my interview was how Demaryius was so open, honest and fun. It is perplexing how quiet he was for a guy his size, but nonetheless it was humanizing. Everyone sees these football players every week on the field, but no one realizes that these guys are people just like we are. The opportunity to talk to a world-class athlete without the helmet was so extraordinary and different in the greatest way!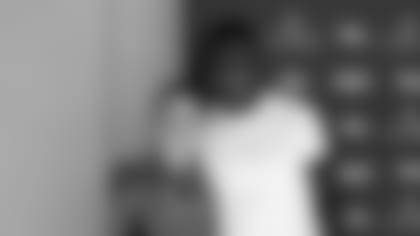 On our way back to the lobby my jaw dropped once again. What could be just as awesome as meeting DT and interviewing him, you ask? Well, Peyton Manning is! I saw Mr. Manning coming around a corner heading towards the quarterback meeting room. I ran ahead of everyone else to go introduce myself to him. We exchanged a few words and a firm handshake and then he went off to his meeting. I will never forget the entire day and the stunning experience, but I will especially never forget that handshake, ever.
The day ended with an interview to recap what happened that day. I then proceeded to leave the greatest place on earth, where the greatest sports players on the planet practice the greatest sport known to man. I am so grateful and honored to have had this experience and I can't thank Children's Hospital Colorado and the Denver Broncos enough for providing me with this opportunity. Go Broncos!