I got the chance to interview a Broncos player in Denver Colorado at their practice field on September 29th. It was one of the best experiences of my life.  My mom, a family friend and I were able to tour the Broncos practice facility, but enough about the tour. Now, it's time to talk about the more special part of my experience.
When I found out that I got to interview Darian Stewart, I was very excited! I asked him to tell me a little about himself. He informed me that he was from Alabama and that he has four brothers and two sisters.  He admitted that he is the youngest and that he is the "spoiled" one!  I then asked him what he considers to be his weakness — his answer was actually very funny!
"My weakness is probably chicken, fries and mostly any type of food that is not healthy," he said.
My third question was what is your dream job, to which he replied "I am living it."  He stated that in high school he thought he would go into the NBA, but he was not tall enough. But now, he is definitely living his dream.
When asked how he deals with pressure and stressful situations, Darian said, "I embrace it and I try to learn and grow from it."  
He said that outside of football he enjoys being a dad to his ten-month-old daughter. He proudly stated that she has started walking.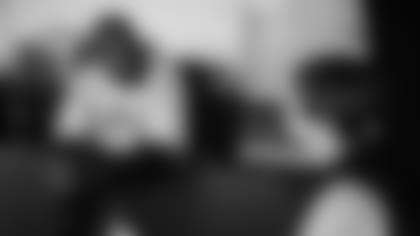 I then asked him if he was an animal which one would he be.  "A lion, king of the jungle, or a shark, something powerful" I think that is a true representation of Darian Stewart. As I watch him play football he is ferocious in his attack on the enemy; however, after meeting him he seems to be protective of his family and has a kindness about him, much like a lion to his pride.
I then asked him some advice questions.  The first one was what was the best advice you were ever given?  He responded, "Whatever you start be sure to finish it."  
What advice can you give to teens, like me, that are going through tough times to which he answered, "Keep the Lord first and always stay positive.  No matter how bad the situation gets just remember there is always someone else struggling too."
I then shared my story of fighting cancer for five years with him, and his kindness moved me.  It was a true honor to interview Darian Stewart, and I thank him for taking time out of his life to spend a few minutes with me.