The day I was picked to be a junior reporter for the Broncos I was SO excited. I LOVE the Broncos so much. My whole family LOVES the Broncos. My older brothers have a Broncos-themed bedroom. Every Sunday my mom, my dad, my two sisters, my two brothers and I all wear Broncos gear. We always get together to watch the games every week, too. When I was told I would get to go see them practice and see some of them in real life, I felt very lucky and my brothers were very jealous of me.
I woke up on Wednesday, November 23rd, the day before Thanksgiving, and I was very thankful I got to go on this very exciting field trip. But I was also real nervous. What if I forgot my questions? What if I forgot how to talk? When we got to the practice facility, it was SO big. There were tons of news trucks and there was loud music playing. I met some very nice people who gave me a tour of the whole building. My favorite part was being able to run and make pretend touchdowns on the same indoor practice field that the Broncos use. It was so big in there. The TV makes the field look so much smaller. The indoor field was made of cool fake grass. It was so much fun.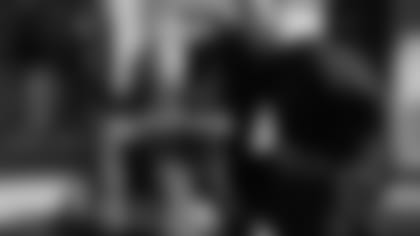 After the tour, we got to watch some of the Broncos practice. It was the best. I saw John Elway eating lunch and Peyton Manning was even there with his kids. Everyone was very nice to me. Head Coach Gary Kubiak walked right up to me, shook my hand and said hi to me. I felt so special. After I got to meet the coach, my big moment came. I got to interview Kapri Bibbs. He is a Broncos running back. Kapri was a great guy. He took the time out of his busy day to talk to me and answer my questions, even though he was training hard and preparing for Sunday's big game against Kansas City.
During the interview, I found out that Kapri and I have a lot of things in common. I thought I had a lot of siblings, but Kapri is the third oldest out of nine kids. He says he really loves to spend time with his siblings. He especially loves Christmas time. In fact, it is his favorite holiday. He loves to buy gifts for all his brothers and sisters, and he likes to make other people happy. Like me, Kapri really enjoys bowling and playing basketball for fun. He wants me to invite him to my next birthday party if I do it at a bowling alley again next year. How cool would that be? I told Kapri my best buddy is my cousin Noah, and he said his best friend on the team is Bennie Fowler.
I think that Kapri and I would have fun if we hung out for a day doing his favorite things. During that day, we would watch his favorite movie, Lord of the Rings. We would snack on his favorites, sweet potato pie and lemonade, and maybe he could teach me how to play his favorite video game, Madden. We could even just watch Tom & Jerry on TV, which is his favorite childhood cartoon. I like that one, too. That would be an amazing day.
I am thankful I got to meet this guy. It made me see that football players are just people, like me and you. Plus, I would never have found out that Kapri's favorite color is red, that he loves the orange Color Rush uniforms, that he thinks white tigers are the coolest animal or that he would coach high school football if he didn't play football.
Kapri says that his mother was his biggest inspiration. He said his mom taught him to be tough, strong, smart and to never give up. He also says his mother helped him get through a lot of tough times and has always been there for him. Kapri seems like a great role model, someone who is trying to make the right choices. I am glad I got to meet him and I hope he enjoyed meeting me as well.