As I wake up this morning and every morning, I always ask myself why? Why am I in this wheelchair? Why did this have to happen to me? I know there was a reason all this happened, but I've always wondered what it was. I've talked a lot to God, asking him why I'm like this. I've come to realize that if this would not have happened, then I wouldn't have a lot of things and people in my life. All these special people I have met and opportunities I have been given wouldn't have happened. This once-in-a-lifetime opportunity of getting to go meet some of the Denver Broncos players wouldn't have happened. I'm so excited that I was given the chance to go meet them!
This all came into play when I was out at the Children's Hospital getting my new ventilator. I was waiting to get discharged, so I went into the Ryan Seacrest studio. While in there, I got to talking to them about how I loved the Denver Broncos. Upon returning home to Nebraska the next day, my dad received a call from the Broncos Event Planner. She asked my dad if I'd be interested in being a junior reporter for the day. When my dad first asked me if I wanted to do this, I thought, "Heck yes, why not?" This is right up my alley for what I want to do in college next year. My family and I spent the next couple weeks preparing and getting everything ready to make this trip happen.
My oldest nephew is a big Broncos fan like me. When he found out that I was given this opportunity, he wanted to go with me. He kept asking me for several weeks if he could go with me. At first my parents and his parents were saying no, because this was my special day. I told them that I wanted to share this experience with him, too, so our parents finally agreed to let him go.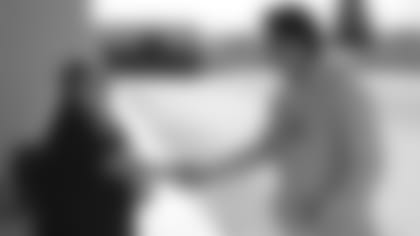 On Wednesday, December 28 my family and I began our trip to Denver from Nebraska. It's a six-hour drive for us, so we began our trip a day before I was to meet the Broncos. When you put two big Broncos fans in a vehicle for six hours that is pretty much all that is talked about. When we got to Denver, we drove by the Sports Authority Field at Mile HIgh to show it to my nephew. We found our hotel, and we went and found the Broncos training facility after we got unpacked.
Going to bed that night and trying to sleep was the hardest thing. I was so excited for my day to start that I had trouble sleeping. Knowing that I could possibly be meeting some of the players that played for Nebraska had my excitement level high. Getting to meet some Broncos players had always been a big dream of mine that I thought would never happen. Little did I know, my dream was going to come true in less than 24 hours.
The day is finally here! The day I've been waiting for for weeks! I finally get to meet some Broncos players! That morning my family and I got up and began to get ready for our fun-filled day. After we ate breakfast, we came back to the room and waited for what felt like forever to leave.
At 11:15 a.m. we finally left our hotel for the Broncos Training Facility. We arrived there at 11:30, which gave us an hour to wait for the lady from the Children's Hospital to meet up with us. In the meantime, we went to the Broncos Team Store and looked around and bought some Bronco paraphernalia. Once my parents got my nephew and I in there, we were like two kids in a candy store. We spent a good portion of our hour in there.
After leaving the store, we went and met up with the lady from Children's, then began to walk out to the practice field. While we were walking out there, I thought I was going to burst out the seams. I was trying not to show how excited I was.
Once we arrived outside by the field, Gary Kubiak walked up to me and started talking. Prior to that, I was told that I'd be getting to interview Jared Crick. I was so excited because he was from Nebraska. Jared Crick is originally from Cozad, Nebraska, which is about 45 minutes from my hometown. While talking to Jared, I found out he knows and went to school with one of my cousins.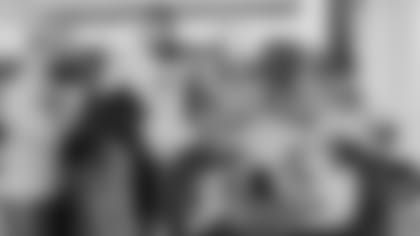 While talking to him, I heard somebody walk up beside us, and say, "Hi, I'm Andy Janovich." I turned to look in his direction and said, "Oh my gosh, yes you are! You are Andy Jano I know who you are!" I was in shock to be standing by two of my favorite former Nebraska Cornhuskers.
It was nice just getting to talk about Nebraska and about football with some pretty cool players. After talking with them for a while, I started asking them my questions that I had prepared. Coach Kubiak had told me that Crick was a guy who didn't talk much. He sure wasn't lying. I asked them what they plan to do once they're done playing football, or once their body tells them they are done. Andy Janovich wants to have his own construction business. Jared Crick told me that he's not sure, but once he knows he said he'd let me know. Jared and Andy both said that being in the NFL is a lot of fun and hard work.
"It's not just about going out and playing on Sunday," Jared Crick said.
"It's a lot of hard work, but it's a lot of fun, too," Andy Janovich added.
After I asked them my questions, it was time for me to let them go. I then got to go finish seeing the rest of the training facility. They took us to the indoor practice field, where they let my nephew and I run around for a while. After we left there, they then took us to the cafeteria where some of the players were eating. When we went in there, some of the players were just getting their food and sitting down. Demaryius Thomas was on his way to sit down, and he walked right in front of us. My nephew waved at him and he waved back which made my nephew so excited. Darian Stewart was just sitting down to eat when he noticed us and came over and started talking to us. He offered us tickets to that weekend's game, but I sadly had to turn them down.
This was an experience of a lifetime. I'm so glad and thankful that I was able to do this. This experience is something I will never forget, and neither will my nephew. I'd like to thank Children's Hospital for making this happen. Special thank you to the Denver Broncos, Andy Janovich and Jared Crick. These were some very kind, young gentleman I got to meet.