PALO ALTO, Calif. --"Let's go to work!"
With that exhortation from Strength and Conditioning Coach Luke Richesson, the Broncos began their week with a one-hour practice at Stanford Stadium late Monday morning.
The Broncos had a session as crisp as the cool conditions in which it took place. Under pristine, azure skies, the Broncos worked without helmets and pads, as has been typical of most practices during their late-season and post-season run to Super Bowl 50.
All players were present at the session.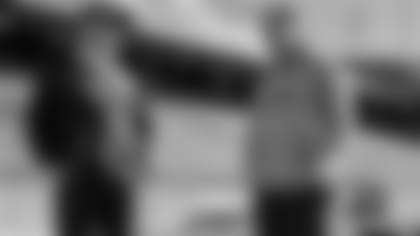 "It was really good. Kind of short and sweet to try to get the travel day out of them, but we got a little head start on what we're doing," Head Coach Gary Kubiak said on the field after practice. "I'm very proud of them. They've been working with a very good attention to detail."
Much of the preparation and installation took place during three practices at the UCHealth Training Center last week, as Kubiak opted to take care of a game week's typical game-planning before leaving for the San Francisco Bay Area.
That schedule and philosophy mimics what the Broncos did before Super Bowls XXXII and XXXIII, when Kubiak was the offensive coordinator under Mike Shanahan.
Kubiak said he looked back at each of his six previous Super Bowls -- three as a player, three as an assistant coach -- in formulating his plans for this week.
"I think you look at a lot of things. The key is when you're here, once you get here, you want your players confident in what they're doing and in everything they've prepared to do," he said. "We just stay true to what we are and how we've prepared, and be confident, and get ready to go."
That preparation extends to matters away from the field -- such as Monday night's Opening Night media session at the SAP Center in downtown San Jose, when players and coaches will field questions from a media horde of thousands.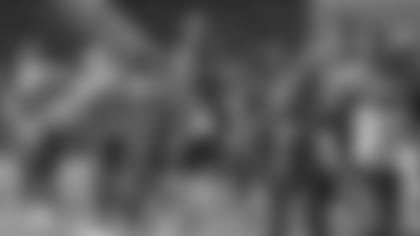 Kubiak and his staff have tried to prepare the players for the questions they will receive, but in the end, he believes they will handle the distractions of that hour -- and the rest of the hours of this week -- like professionals.
"I have to trust them," Kubiak said. "People ask me about curfews and stuff; they haven't had a curfew all year. They have a curfew the night before the game.
"They're grown men, and they're in a tougher environment; I understand that. But the leadership of the football team understands what's at stake," Kubiak said.
"I tell them [and the team leaders] tell them, 'They've got to handle their business.' But it is a challenge. So you just sit there and hope they answer the bell like they have all year long."
The practice venue thoughout this week will be Stanford Stadium. which was rebuilt around its playing field in 2006. The field hosted Super Bowl XIX 31 years ago, served as a venue for the 1994 FIFA World Cup and was the college playing home of John Elway.
Stanford's facilities are "exceptional," Kubiak said.
"The good news for us is that we don't have to bounce around to find two fields or something; we have plenty of room in here to get our work done," Kubiak said. "What a beautiful place to come back to. It's really cool."