SANTA CLARA, Calif. --Another week, another elite tight end.
Super Bowl 50 may not be like any other game the Broncos have faced in terms of the hubbub and hype, but it is familiar in that their secondary and linebackers will stare across the line of scrimmage at yet another elite tight end: Carolina's Greg Olsen.
'Kelce twice, Gronk twice, Gates twice," said cornerback Chris Harris Jr., quickly reciting the names of Kansas City's Travis Kelce, New England's Rob Gronkowski and San Diego's future Hall of Famer, Antonio Gates. When you throw in Pittsburgh's Heath Miller and Cleveland's Gary Barnidge, the Broncos have spent most of the season -- especially in the last two and a half months -- going against elite tight ends.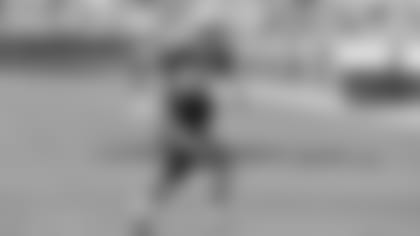 "We've been battle-tested going against the tight ends," Harris said. "I think we'll be ready."
Although Olsen does not get the national attention of Gronkowski and stands one inch shorter and 12 pounds lighter, he is capable of the same type of receptions in heavy traffic for which Gronkowski is known. He can make plays even when he's double-teamed, just like Gronkowski did on the fourth-and-10 reception late in the AFC Championship Game that kept the Patriots' hopes alive.
"Greg Olsen is faster than I thought," said inside linebacker Brandon Marshall.. "I always knew he was a good tight end, but from watching film, I'm like, 'Oh, the guy can run. The guy can move.' We've got to be on it, man. We've got to cover well. We've just got to be on him."
And Olsen, like Rob Gronkowski, can use his size and reach to make catches downfield despite being double-teamed.
"He's the X-factor. We've got to get on Greg Olsen," Marshall said.
"I think it's going to be all right," added safety Darian Stewart. "We've just go to know where he is at all times and just know that they like to get it to him in certain situations."
But covering Olsen isn't just about the safeties and linebackers. Harris knows he'll have to take responsibility for dealing with a tight end 58 pounds heavier and seven inches taller -- just like he did against Gronkowski late in the Jan. 25 win.
"I had to cover Kelce, Gronk a couple of times. Every week I don't prepare to cover them, but it always seems to happen," he said.
Just like it was for Gronkowski, it's all hands on deck to deal with Olsen, the Panthers' leading receiver and Cam Newton's most dangerous, consistent threat downfield.
The Broncos turned in their final practice before Super Bowl 50 Friday morning. (All photos by Eric Lars Bakke)