As Head Coach Gary Kubiak reiterated throughout the regular season and postseason, the Broncos' path necessitated contributions from the entire roster. This series details the paths of each player to the team's Super Bowl 50 triumph. Today's entries are on the wide receivers, beginning with the duo of Demaryius Thomas and Emmanuel Sanders.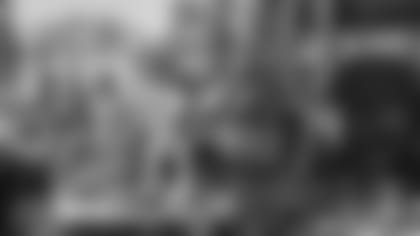 The magnitude of this season goes well beyond football for Demaryius Thomas, who posted his fourth consecutive season with at least 1,300 receiving yards.
The Super Bowl capped a monumental seven-month period in Thomas' life, beginning July 13 when President Barack Obama announced that he was commuting 46 prison sentences that it deemed "unduly harsh," including that of Katina Smith, Thomas mother. Smith had been sentenced to 20 years for drug trafficking and had been in prison since Thomas was 11 years old. She had been able to watch him play football on television from time to time, but she had never been able to watch him in person.
That set the wheels in motion for what would be an incredible season. Two days later, Thomas and the Broncos agreed to a new five-year contract. Smith would have to wait to be able to travel out of the state of Georgia, per terms of her release, so the first time she would be able to come to Denver wouldn't be until the weekend of the Broncos' Divisional Round matchup against the Steelers.
After 15 long years, Smith was finally able to watch her son play the game he loves, and a little less than a month later, she traveled to Santa Clara, Calif., to watch him play in the Super Bowl. For both Thomas and Smith, the path to Super Bowl 50 was an unimaginably difficult route with a rewarding peak.
Sanders followed up his first Pro Bowl season with a similarly effective year as he helped the Broncos win Super Bowl 50. With incendiary speed, outstanding hands and an elusiveness that makes him one dynamic threat both deep and on short routes, Sanders has been as consistent as anyone on the team.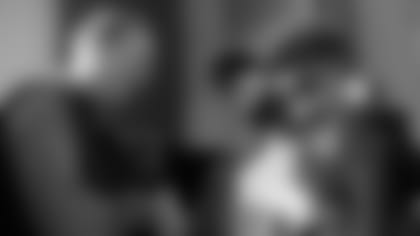 Getting to this point, being able to hold up the Lombardi Trophy — it's all been quite the whirlwind for "a little, small kid from Bellville, Texas," as Sanders describes himself.
Those were humbler days for Sanders, who can recall days when he ate mayonnaise-and-ketchup sandwiches. In college, Sanders shined in June Jones' run-and-shoot, pass-heavy system, rewriting Southern Methodist University record books with top marks in single-season receiving yards, career receiving yards, single-game receptions, single-season receptions, career receptions and total career touchdown receptions.
From there, Sanders was drafted by the Steelers. He spent four years in Pittsburgh, and when it came time for him to move on in free agency, Sanders wanted the chance to prove he could be one of the NFL's top receivers. With future Hall of Fame quarterback Peyton Manning under center and an offense coming off the most productive season in league history, Denver offered that opportunity.
In his first season with the Broncos, Sanders recorded 1,404 receiving yards, nearly double his previous career best from a year earlier. In his second season, Sanders' receiving yardage dropped to 1,135, but with a Super Bowl victory and a personal single-game record of 181 yards against the Steelers in that season, 2015 was a year to remember.
After spending 2014 on injured reserve with a torn ACL, Norwood made a remarkable recovery and earned a spot on the Broncos roster as a valuable slot receiver and punt returner. Sanders had been named the first-team returner early in the season, but Norwood would move into the position when injuries forced the Broncos to keep Sanders from further risking his health on punt returns.
Norwood's biggest play -- perhaps of his career -- came on the biggest stage with the Broncos needing a spark in the second quarter of Super Bowl 50. The Panthers had held the Broncos offense to three-and-outs since Denver opened the game with a scoring drive capped by a Brandon McManus field goal, and Carolina had cut its deficit to three points following a Jonathan Stewart touchdown.
The Broncos defense held the Panthers to a three-and-out, forcing them to punt on their first drive after the touchdown, and Norwood lined up for the return. It was a short punt and Norwood ran up to catch it, and in the process, Carolina's gunners assumed Norwood called for a fair catch because of how risky catching a punt on the fly can be. But Norwood didn't, and he took off. He would be caught at the Panthers 14-yard line, but with a 61-yard punt return, Norwood had set a Super Bowl record.
Norwood's big year also included getting married to his wife, Aleah, and the birth of their first child.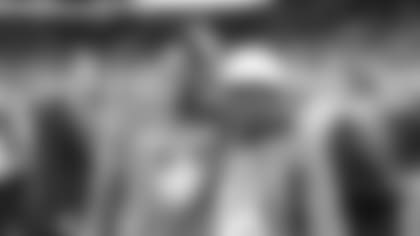 Much like Matt Paradis, Bennie Fowler was trusted to make a considerable impact with a jump from the practice squad to the active roster. He was an athletic addition to the offense, with a great catch radius, speed and an ability to make big plays. That was just what the Broncos needed late against the Steelers when Fowler stepped up to convert on third down.
The Broncos had converted on just one third down in the game prior to that play, and they couldn't afford to let an opportune takeaway from the defense turn into zero points. Fowler's catch-and-run on a crossing route for 31 yards ensured that the drive wouldn't end before even reaching midfield. His catch helped the team string together the game-winning scoring drive that was finished with a C.J. Anderson 1-yard touchdown.
On a personal note, Fowler had a championship connection with the Golden State Warriors, who won the NBA title in June. Fowler grew up playing basketball with forward Draymond Green, and the two had gone on to become Michigan State Spartans before beginning their professional careers with the Warriors and Broncos.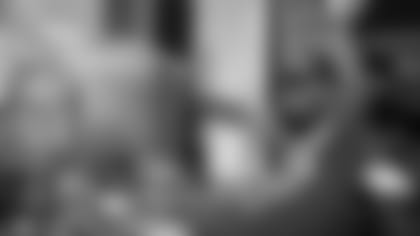 The most experienced receiver on the roster, Caldwell has been a steady contributor to the Broncos for four years. "Bubba," as he's more commonly known, had his biggest moment in Week 12 with a go-ahead touchdown catch against the Patriots.
In the Super Bowl, Caldwell came up with the only third-down conversion, a deep pass down the right sideline.
Caldwell's achievement of winning a Super Bowl fulfills the potential he's shown since he was a five-star high school prospect. As a Florida Gator, Caldwell left Gainesville, Fla., as the school's all-time receptions leader and No. 3 in receiving yards.
As the Broncos' second-round pick in 2014, Latimer has had some pretty lofty expectations, and he's held himself to his own high expectations. And he succeeded with some big plays this year, showing a glimpse of what he can add to the team.
It was with backup quarterback Brock Osweiler that Latimer had his most success. That should come as no surprise; the two have spent extensive time practicing together on the second-team offense. Latimer found the end zone for the first time of his career in Week 11 against the Bears, and with that moment, he brought an endearing friendship to light.
Latimer had met Carson Cline, an 8-year-old cerebral palsy patient, at Children's Hospital Colorado about a week before that Bears game. The two Facetimed with Carson's favorite player, Thomas, and posed with photos. One of their photos features Carson's touchdown pose. So Latimer decided that whenever he scored a touchdown, he would do that touchdown pose — and he did.
Latimer also had his first child this year, a son named Jacolby Latimer.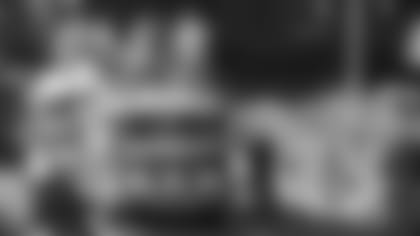 Williams spent the season on injured reserve, unfortunately, after a torn Achilles tendon ended the season after Williams had put together a promising offseason as a potential return specialist.
A five-year veteran, Williams had played in 39 games, of which he had started in nine. He was also a standout baseball player in high school, to the point that he was drafted by the Chicago White Sox in the 47th round of the 2006 MLB Draft. Williams' father, Kenny, was a 2005 World Series Champion as the Chicago White Sox's general manager during from 2000 to 2012. His father also had a six-year playing career in the MLB with the White Sox, Detroit Tigers, Toronto Blue Jays and Montreal Expos.
---